Wavefront Systems has released an article following live demonstrations of the Sentinel Intruder Detection Sonar (IDS) and explains its key technology features.
---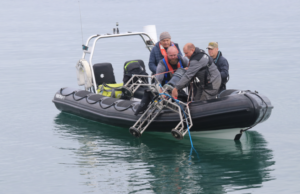 Live demonstrations allow our potential customers and partners to witness the power of Sentinel IDS in real-world situations.
The latest developments in Sentinel's capabilities can be shown to an audience where on-site discussions on specific scenarios and ConOps can be better evaluated and explored.
In late April, we held a well-received live demo of our latest generation of Sentinel IDS, at Portland Harbour, Dorset, on the South Coast of England.
Eight groups from a select range of industry partners and guests were invited to join us during several sessions to see Sentinel IDS live in-water performance. Having deployed the Sentinel expeditionary sonar head manually from a RIB, we were able to show the system going on to successfully detect, classify and track highly trained divers deployed in the harbour.
Over the five days in Portland, Sentinel was put through its paces in various weather conditions in an operational commercial harbour environment. Sentinel exhibited all of the latest developments of the next generation system to our attendees; allowing our team to expand upon the practicalities of the latest technology and its application to customer specific scenarios. Following these sessions, one take-home was that explaining some of the features we covered would be useful for our followers and potential customers.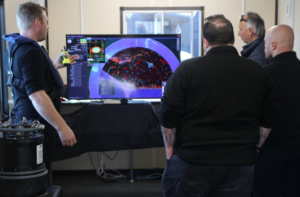 Sentinel Key Features:
SInAPS (Simultaneous In-band Active and Passive Sonar)
SInAPS technology, unique to Wavefront, combines the detection and tracking capabilities of active and passive sonar.
SInAPS draws on the use of both active and passive sonar technologies when tracking low-target-strength drones or very slow-moving targets in highly cluttered seabed conditions, typical of some harbour settings. Without compromising the active tracker, SInAPS uses the processing gain of the Sentinel array, along with its high bearing resolution, to simultaneously passively track targets. SInAPS then combines the spatially co-registered output from the active and passive trackers.
SInAPS' real power lies in its ability to classify and establish threats that would have previously taken much longer to identify. Imagine a situation where a small drone is moving under the cover of a harbour wall; a challenge for any active system. The use of passive sonar allows Sentinel to correlate mechanical noise and intermittent detections to immediately establish the presence of a threat. This reduces alert time and increases response time.
Super-Inheritance
Super-Inheritance allows Sentinel to maintain a single track across multiple sonar heads or indeed to stitch together multiple partial tracks into an unbroken track. When a target becomes lost in the noise and reappears again, either within the same Sentinel Head or a different Sentinel Head on the same system, the algorithms can determine its single track and stitch the partial tracks together.
Full Aperture Zoom Window
The Zoom Window shows active sonar target imagery produced using full aperture processing. This is a much higher fidelity than the imagery in the active Plan Position Indicator (PPI), which is the standard 2D display in Sentinel showing range and bearing. The detail shown in the Zoom Window can help the user to classify the target and if selected it will automatically track the threat.