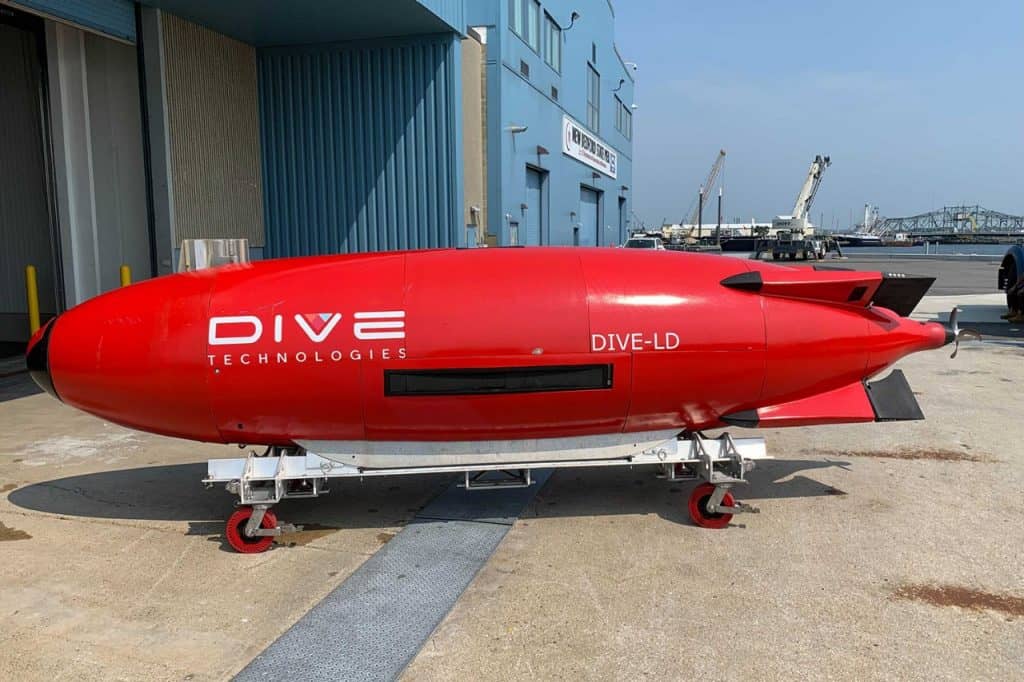 Sonardyne has released the following case study detailing how the company's USBL-inertial systems have been incorporated into a deepwater UUV (unmanned underwater vehicle) that is being developed with support from DARPA and will be used for long-endurance survey and ISR (intelligence, surveillance, and reconnaissance) missions.
Developing large, deepwater and long-endurance autonomous underwater vehicles (AUVs) isn't a challenge for the faint-hearted. But with the right approach to USBL-inertial systems, it's a task that can be made simpler, without having to dive straight in at the deep end.
The challenge
That's the approach that Anduril Industries has taken for its large displacement unmanned underwater vehicle (LD-UUV), the DIVE-LD. It's a rapid development programme that has included support from the Defense Advanced Research Projects Agency (DARPA) and technology partnerships with organizations including the Center for Marine Autonomy and Robotics at Virginia Tech.
Deepwater capability, shallow-water USBL-inertial test bed
The DIVE-LD is targeting littoral and deepwater survey, inspection and intelligence, surveillance, and reconnaissance (ISR). To meet these tasks, the 1.2 m-diameter, 5.8 m-long AUV has been designed to operate in down to 6,000 m water depth, traveling at 2-8 knots and covering, in a single mission, nearly 600 km.
To hone the vehicle's systems, Anduril wanted to be able to conduct testing in its home waters. They already have one of our Ranger 2 Gyro USBL (Ultra-Short BaseLine) systems for full ocean depth positioning on vessels of opportunity. But they wanted something for positioning in just 6 – 20 m water depth that they could quickly set up on small coastal boats or even RHIBs.
The solution
The company, which recently acquired Quincy, Massachusetts-based underwater robotics innovator Dive Technologies, chose our Micro-Ranger 2 USBL system.
It's a perfect fit. Micro-Ranger 2 is portable; everything you need comes in one, medium-sized IP67-rated ruggedised case, complete with its own 10-hour rechargable power supply. It's also easy to set up and use from any waterside location, with Wi-Fi and ethernet connection to your laptop. It is able to track up to 10 targets out to 995 m range, including in shallow waters, thanks to our Wideband digital signal architecture. It's also available with an integrator kit for those wanting to both track and communicate with targets, whether that's divers, ROVs or even large-displacement AUVs!
For Anduril, it ticked all the boxes for helping develop their navigation techniques and to implement USBL aiding while testing in areas with less than 20 m total water depth.
Combining USBL-inertial systems
What's more, the DIVE-LD already has our highest grade hybrid acoustic-inertial instrument, SPRINT-Nav X, and our AvTrak 6 combined transponder, transceiver and telemetry instrument onboard. This allowed for seamless integration with Micro-Ranger 2, thanks to them all being built on our common hardware platform, 6G. All equipment with 6G hardware talks the same language. This gives the user added flexibility of working with various transponders, or in this case topsides, to get the job done.
The results
Tim Raymond, founding engineer at Dive Technologies and now Chief Engineer at Anduril, says, "Micro-Ranger 2 allows us to deploy on almost any vessel while performing shallow water AUV testing. At the same time, it's still capable of providing quality USBL positional aiding to the AUV, despite the small form factor and challenging acoustic environment.
"This system has already allowed us to develop navigation techniques and implement USBL aiding while testing in areas with less than 20 m total water depth, giving us high confidence in the capabilities of our DIVE-LD's onboard software and aiding systems, prior to deployment in more austere environments where USBL aiding is critical for AUV navigation.
"The ability to rapidly deploy on almost any vessel and test integration and implementation of USBL aiding systems, without the overhead of a large host vessel and deployment into deep water, allowed us to develop USBL aiding capabilities for the DIVE-LD on an extremely tight schedule and with very low cost to test and validate."
Are you developing an AUV or UUV? Get in touch to find out how we can support your development programme, no matter how shallow or deep you want to go.