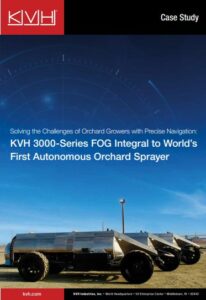 KVH Industries has released a case study detailing how its DSP-3000 fiber optic gyro (FOG) was integrated into the autonomous navigation system for an orchard spraying system. Autonomous technology is ideal for orchard environments, where highly caustic chemicals are used, but highly precise navigation is required in such crowded conditions.
Download the full case study from KVH's website here
The case study covers:
The challenges involved for unmanned sprayer vehicles operating in orchard environments
Details of LSA Autonomy's Basic Autonomous System Enclosure (BASE), which uses sensor fusion for precision navigation
How the KVH DSP-3000 contributed to the autonomous sprayer solution
To find out more about using FOG sensors to aid autonomous navigation in GPS/GNSS-denied environments, download the full case study here.