In this article, Future Tech Aero explores how autonomous UAV fleet management software is addressing the challenges faced within the mining industry. The automation of manual inspection and collection of critical information in hazardous areas greatly reduces risk, resulting in savings to both time and manpower.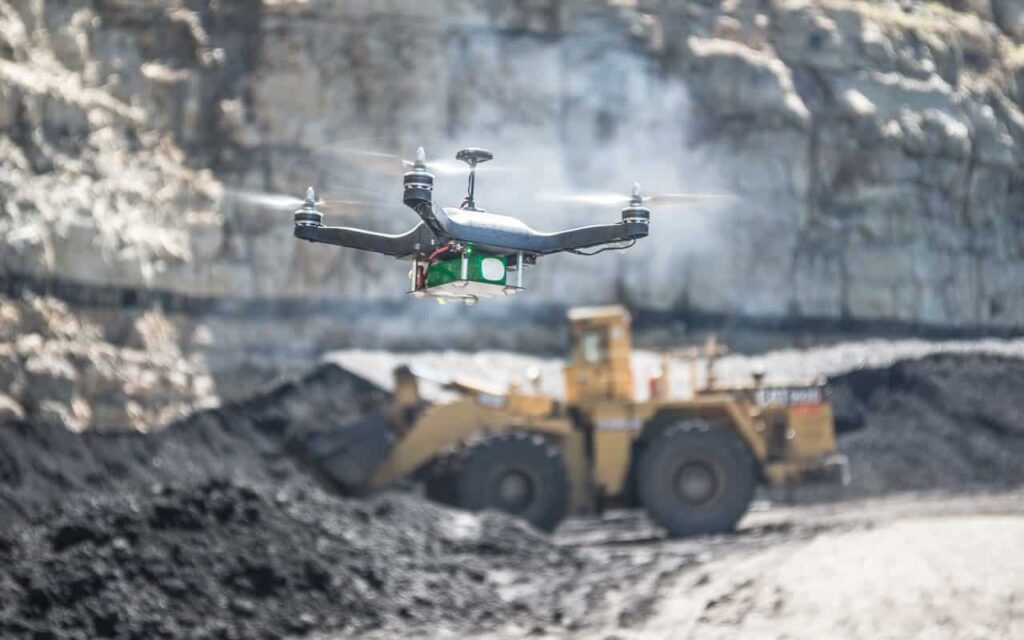 The mining industry is one of the most dangerous sectors to work in. Over 15,000 miners are killed or maimed in mining-related accidents every year. This is just the cost in human lives. Operational costs accrued as a result of such accidents are detrimental to the financial health of mining companies.
It is therefore not a surprise that the largest mining companies in the world are investing immense resources in developing technologies that can significantly reduce accidents while improving safety standards and efficiency. As a result, futuristic platforms like automated unmanned aerial vehicles (UAVs) are being seriously considered for integration in mining operations.
Transformation of the mining industry
The transformation of the mining industry is taking place even as we speak. The advantages offered by leveraging automated solutions provided by companies like Airobotics, FutureTech Aero and Wingtra are too substantial to ignore. Utilizing automated UAVs to takeover manual inspections in hazardous areas and critical information collection will result in time and manpower savings.
Companies are always looking forward to introduce cost-efficient methods, and the automated UAV holds much promise. Simply put, an automated UAV would reduce manpower costs, save time, and even provide critical information in the following areas:
Inventory management and end-of-month reconciliation
Continuous terrain mapping
Asset and resource management
Situational awareness and emergency response
Infrastructure and equipment inspection
Security monitoring
However, their implementation is not without its set of challenges. The first and foremost challenge is infrastructure. The deployment of automated UAV fleets in such a capacity requires the presence of certain infrastructure facilities. Not all mining sites are equipped to handle the operational challenges that come with it. Other challenges include configuration, coordination issues, maintenance and servicing.
AI-based fleet management
Companies are starting to find workarounds to these set of operational challenges. One such solution is the AI-based Fleet Management Platform developed by Future Tech Aero. The fleet management platform, called AFMS, is designed to perform Autonomous or Assisted operations through a Ground Control Unit.
The platform emphasizes delivering a smooth, error-free experience while efficiently managing a gigantic fleet. This has the added benefit of streamlining operations through seamless traffic management whilst reducing accidents.
Enhanced safety modules and an AI-backed Smart Disaster Control System is also integrated with the platform to ensure emergency situations are taken care of efficiently. AFMS is also highly customizable, making it compatible with UAVs of different makes and models that are currently being offered in the global market.
The highly sophisticated AI-based Fleet Management Platform can perform autonomous takeoff and landing maneuvers and also trim the UAVs for maximum efficiency during flight. The platform takes care of flight configurations without the need for any human intervention to ensure smooth operations and optimal resource usage. Regular updates guarantee error-free operation while ensuring the platform keeps up with the latest developments in the industry.
Fleet management platforms allows for easier organization of UAVs and maintains a comprehensive record of all operations, including documentation, maintenance records, inspection compliance data and other aspects of fleet operations.
Remote UAV operations also become viable with the help of such platforms. Additionally, maintenance work becomes less of a headache for technicians as the required logs are available in the system for easy access. This reduces downtime and maximizes lifespan too.
Advantages
The advantages to be gained from the employment of UAVs in critical industries like mining are plenty. In addition to site safety management, companies can gain critical information from surveying and mapping, stockpile management, haulage road optimization, and inspections.
The deployment of futuristic platforms for autonomous UAV operations in mining can pave the way for other industries as well. There are already talks about how China and the USA are racing to mine the moon. Perhaps, leveraging UAV technology for mining here on Earth could open new avenues for realizing the long-awaited dream of mining the moon for its untapped resources.