UnmannedSystemsTechnology.com talks to Atmos, the creator of the Marlyn Cobalt VTOL fixed-wing drone, about the Marlyn's remarkable safety features, recent industry applications and the pairing of the Sony's 61MP full-frame A7R IV, with Topcon's PPK module – an aerial surveying match made in heaven.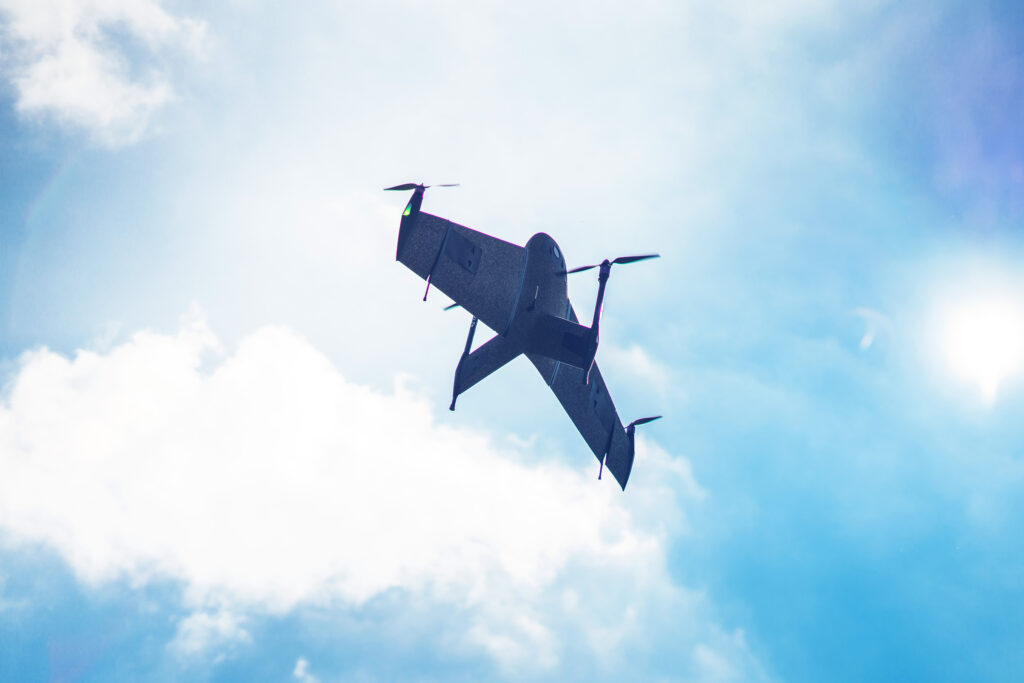 Atmos has developed the Marlyn Cobalt, a versatile fixed-wing VTOL UAS. Can you tell us more about what sets Marlyn Cobalt apart in the uncrewed sector?
Marlyn Cobalt is the first fully autonomous hybrid (VTOL & fixed-wing) drone for mapping and surveying applications. With its patented design that combines the best of both worlds, the platform can take-off vertically from anywhere, and map fast and efficiently, producing high quality outputs for professional users. It is the only drone in its class that is built to perform even in harsh and windy conditions, while its easily swappable payloads provide operators with unprecedented flexibility.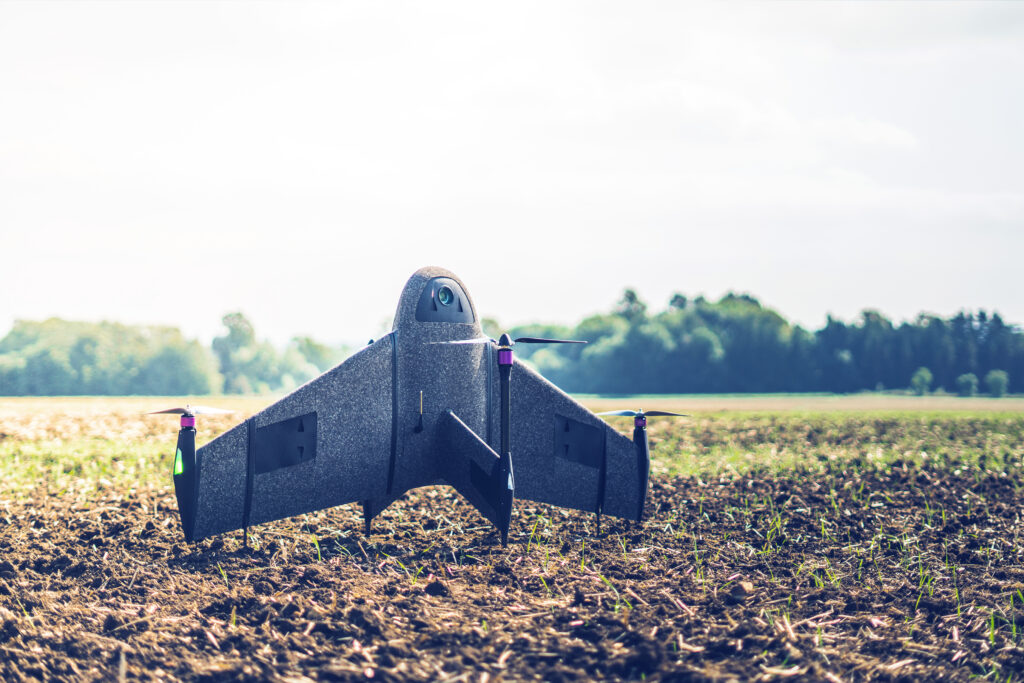 Could you outline the advantages of the Marlyn Cobalt as an advanced GIS mapping & survey solution?
Perfect for those heading off the beaten track, the Marlyn's easy transportation pack contains everything the surveyor needs, whilst the wingtip mounted propellers and large tailfin provide stability in survey/airplane mode, while constantly correcting attitude to get sharp aerial images in the toughest of winds.
Key features applicable to GIS professionals include:
The drone speeds up data capture by surveying large areas up to 30x faster than traditional land surveying methods, and up to 10x faster than multicopters

Setup takes less than 5 minutes
Only 2x2m [6.5×6.5ft] takeoff/landing space required
Flight in wind conditions up to 45km/h [28mph] at ground level, and 55km/h [34mph] at cruise altitude, can result in up to 30% more surveying days per month
Centimeter level accuracy can be attained with the Sony's 61MP full-frame A7R IV, combined with Topcon's PPK module
Multiple safety features to ensure safe operations
Could you tell us more about the Marlyn Cobalt's significant safety features?
Fully automated, the Marlyn Cobalt has been designed from the ground up with safety foremost in mind, and is intended to be used by anyone no matter their level of experience. Before every flight the platform performs self-checks of all its critical systems, this self analyzing functionality enables errors to be detected without user input.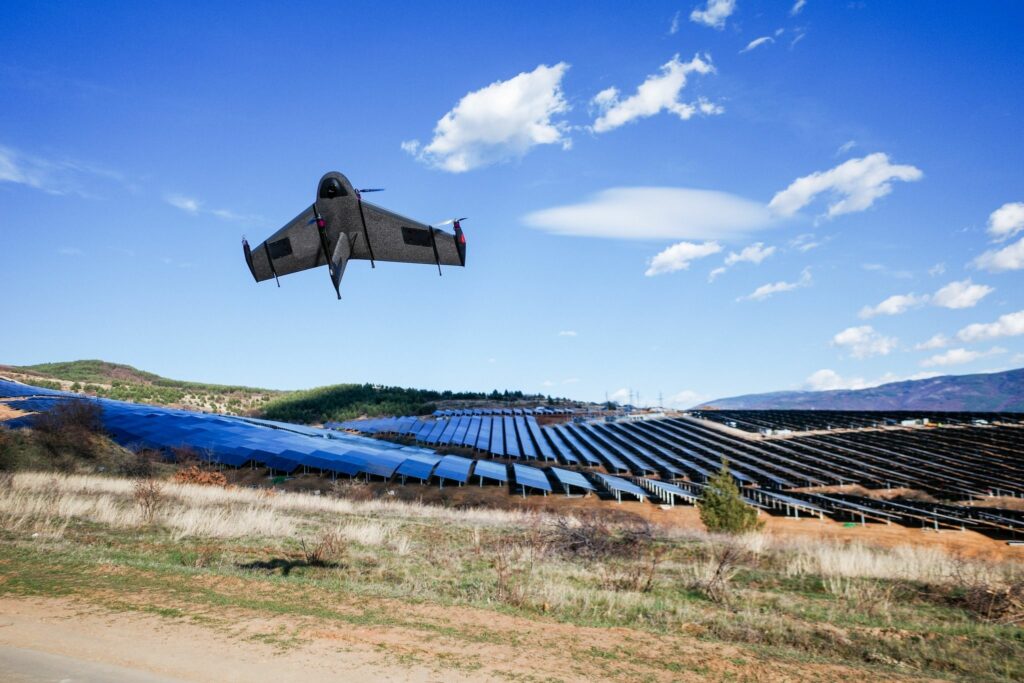 Alongside this, our flight planning and monitoring software, Navigator, offers a pre-flight digital checklist with failsafe procedures to ensure the drone is safe to fly. Marlyn is also the only VTOL drone with built-in smart navigation and anti-collision lights. Capable of being taken over for position-controlled flight in both helicopter or airplane mode, the drone has multiple emergency flight modes, for example; Return Home, Force Landing, Pause Mission, Veer Right, etc.
Fly away protected in the event of loss of GPS, the drone has a dual redundant battery system and power circuits. If the platform flies within 30m of the takeoff altitude, it automatically transitions into helicopter mode, making it impossible to steer it into a dangerous position. The platform will hold its GPS position during helicopter mode, providing peace of mind and soft touchdowns when flying in high winds or challenging locations
Do you have any real-world use cases you'd like to share with UST readers?
In March 2022, Marlyn Cobalt equipped with the MicaSense Altum was used in Ireland to create an accurate, georeferenced variable rate Nitrogen map of an oilseed rape crop which was used to determine the correct application of Nitrogen fertilizer and thus increase yield and decrease operational costs. The use of the drone produced an effective and accurate NDVI (Normalized Difference Vegetation Index) map across the entire field, without sacrificing the resolution and flexibility seen with satellite data collection methods. Read more here >>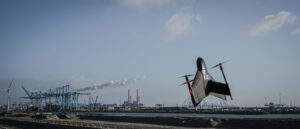 In September 2022 Van Oord used Marlyn Cobalt survey drones to take accurate weekly snapshots for detailed progress monitoring of the construction of approximately 2,4 kilometer of quays and retaining walls designed to significantly increase the container transhipment in Rotterdam. The resulting orthophotos contained precise geospatial data that could be used to produce digital terrain models (DTMs) of the construction site at the port. Find out more >> 
August 2021 saw Atmos support the "Mound of the Future" project by monitoring morphological and vegetation development using the VTOL platform in collaboration with Nobert Stellaard. Designed to revive the relationship between man and coastal landscape in response to rising sea levels, Atmos mapped ~350 ha of the saltmarsh area to aid the creation of highly accurate digital elevation models and detailed vegetation maps. Read more >> 
Plans for 2023 and beyond?
2023 will see Atmos continue to build on our global reseller network and expand the Atmos team. We are also excited to investigate the possible addition of LiDAR payloads – watch this space!