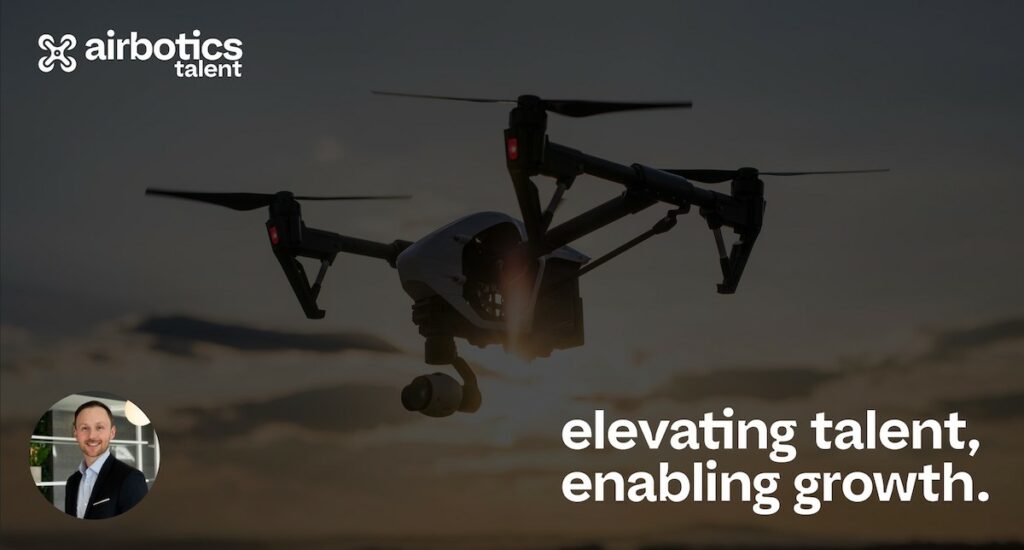 The drone industry is going through a rapid rate of acceleration and is projected to grow to $33.9b by 2032, at a compound annual growth rate (CAGR) of circa 18%.*
In response to this demand, entrepreneur Richard Nelson has launched Airbotics Talent as the go-to talent solutions partner for the global drone & UAV market.
Richard has a decade's experience in recruitment and business consulting in the mobility space. Airbotics Talent is a talent solutions consultancy that helps UAV & robotics businesses hire and retain high impact people, as well as attract investors for funding rounds.
Discussing the unmanned sector Richard commented; "With the backdrop of record-breaking events this year such as XPONENTIAL, the Commercial UAV Expo and DSEI, I couldn't be more passionate or enthusiastic about the potential of the UAV sector, and speaking to other leaders in this space, I know I am not alone".
There is a growing wave of optimism across the sector and increasing indicators of mass consumer adoption of UAV technology, however Richard was quick to highlight some of the barriers to progress; "In order to realize the growth potential of this market, there are some immediate obstacles to overcome, in the form of regulation and compliance, consumer confidence and security amongst others. Fundamentally, the biggest challenges our customers are facing right now are product innovation, hiring and retaining talent, and funding. Airbotics Talent was established to remedy the latter two". Operating across North America, Europe and APAC, these challenges are not a localized issue but something that is borderless.
Richard went on to explain; "We spoke to our customers from countries including Switzerland, Germany, the US, Canada and Australia and they have all been saying the same thing. Hiring in the current high-demand, low-supply market is daunting and tough. Unlike commercial aviation, there isn't the depth or maturity of talent in the market and the feedback we've had from customers is that everyone is feeling the strain in this area. What they hadn't previously been able to find was a provider dedicated to the UAV market, which is why I founded Airbotics Talent".
Some solutions to tackle this growth include hiring and retraining from other sectors, developing graduates and tapping into the ever-expanding drone pilot programs. "Cross referencing with peers is another great way to begin this process, but for business critical or hard to fill roles, finding a UAV specific talent partner can have a great ROI. Airbotics Talent are positioned to hire experienced professionals within the industry and support from C-level down to Engineer".
With so many new to market businesses in this space, competition for funding has never been higher. Richard explained; "In order to advance product development and grow headcount, you need capital. The VC market has tightened over the last 18 months so raising funds isn't as easy as it used to be. We work with pre-seed startups to those going through Series A, B and C funding rounds. Through our VC, PE and Founder networks we are able to connect business leaders with investors and investors with investment and M&A opportunities".
For inquiries and partnership opportunities: Please contact [email protected]
On LinkedIn: follow Airbotics Talent

www.AirboticsTalent.com
*source: Custom Market Insights