Ziyan UAS is a leading manufacturer of electric unmanned aerial vehicles (UAVs) for civilian and industrial applications. UST is delighted to welcome Ziyan on board as a supplier partner, and we will be highlighting their unique solutions and capabilities across our channels over the next 12 months.
We've just launched Ziyan's UST supplier profile, which has been written and built by our team in collaboration with the company. The Gold profile showcases their electric unmanned helicopter and hybrid VTOL platforms, with as well as a range of accessories including tethered systems, GCS (ground control stations), data and video links, dual- and quad-sensor gimbals, and autonomy and swarming capabilities.
Read on to find out more: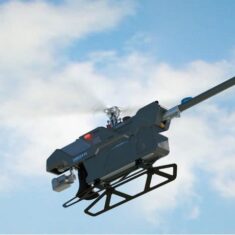 The Ranger P2X is a highly versatile electric unmanned helicopter that has been specially designed to operate in complex environments such as mountains, rivers, lakes, and oceans. Featuring a flight time of up to 120 minutes and an encrypted datalink with a range of up to 30km, it is ideal for high-precision imaging, detection and monitoring missions.
The aircraft features a modular quick-disassembly design that allows it to be disassembled in just three minutes and packed into a bag for easy transport. It can be equipped with a variety of payloads for multi-mission flexibility, including a 30x zoom EO gimbal with laser rangefinder, a 130 dB loudspeaker, and a high-illumination searchlight. The platform is also equipped with an intelligent autonomous obstacle avoidance module for enhanced safety.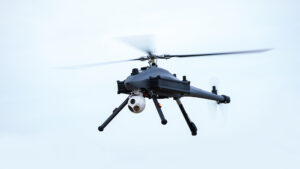 The Falcon 10 is a small portable electric unmanned helicopter featuring a unique folding design that allows convenient single-handed operation and quick and easy assembly, deployment and disassembly.
The helicopter UAV can be provided with a wide range of payloads, including EO, multispectral and hyperspectral cameras, searchlights, lifebuoys, and megaphones. It can also be integrated with custom third-party equipment to suit specific mission requirements. The Falcon 10 is also equipped with an intelligent autonomous obstacle avoidance module that enables it to fly safely in highly complex environments.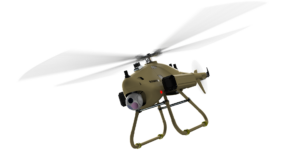 The Blowfish A3 Max is a fully electric multi-domain unmanned helicopter designed for BVLOS (beyond visual line of sight) operations over land or sea. It features a detachable tail design that makes transportation and storage highly convenient.
The aircraft can take off and land within a small footprint, making it ideal for operations in confined areas. With a large carrying capacity, it is designed to accept diversified payload mounting and undertake accurate launching and dropping of cargo.
The Blowfish A3 Max can carry a wide variety of conventional payloads, such as dual- and triple-sensor camera gimbals, hyperspectral and multispectral cameras, LiDAR scanners, and firefighting equipment. Thanks to its modular design, it can also be integrated with more specialized payloads, including spectrometers, gas analyzers, winches, search lights, and megaphones.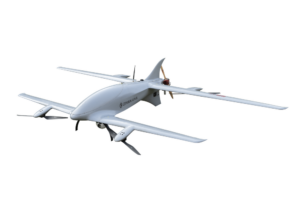 The QL is a high-performance hybrid VTOL (vertical take-off and landing) UAV with a tandem-wing design, combining the maneuverability advantages of a multirotor with the longer endurance and higher speeds of a fixed-wing aircraft. With no requirement for a runway, the aircraft is ideal for operating in mountainous areas, plateaus, and other areas with complex terrain.
Mounting the engine propeller on the tail of the fuselage makes the aircraft more aerodynamic, decreasing air resistance whilst increasing thrust. The rear-engine design frees up additional space for large payloads within the fuselage. The payload cabin can also be modified to accommodate specific mission requirements and payload dimensions.
The QL can be equipped with a large variety of payloads to support use cases such as public security, surveillance, aerial mapping, disaster management, situational awareness, logistics and delivery, and search and rescue.
To find out more about Ziyan UAS and their electric unmanned helicopters and hybrid VTOL drones, please visit their profile page: https://www.unmannedsystemstechnology.com/company/ziyan-uas/