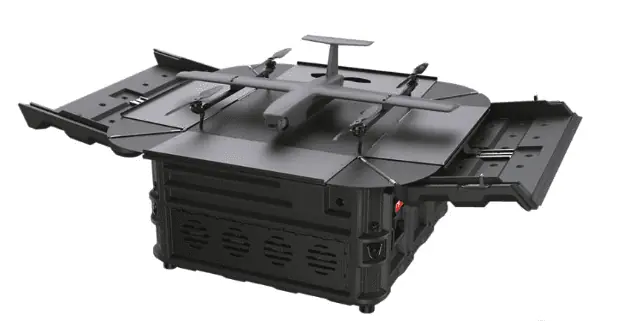 Custom drone hardware and software developer Easy Aerial has unveiled its latest sUAS the Tern at XPONENTIAL'23.
A unique hybrid fixed-wing VTOL-in-a-Box solution, the Tern delivers VTOL capability, long flight times, and versatile payload options.
After take-off, the Tern can precisely and reliably perform a wide range of missions including ISR, border security patrols, linear inspections, agricultural mapping, and more, before autonomously returning to its ground station for automatic recharging.
The design features foldable wings and tail, enabling the medium range VTOL to be stored safely inside a small tactical ground station that fits many vehicle types.

Specifications:
Empty Weight
13.2 lb (w/o payload)
Top Speed
120 Km/h (74.6 mph)
Flight Time
120 minutes
Endurance
All weather (Rain, Snow & Fog)
Distance
100 Km (62 miles)
Payload
Next Vision Nighthawk 2-V EO/IR
Teledyne Genie Nano 5G
MicaSense Altum-PT
Find suppliers & manufacturers of Drone-in-a-Box Solutions >>