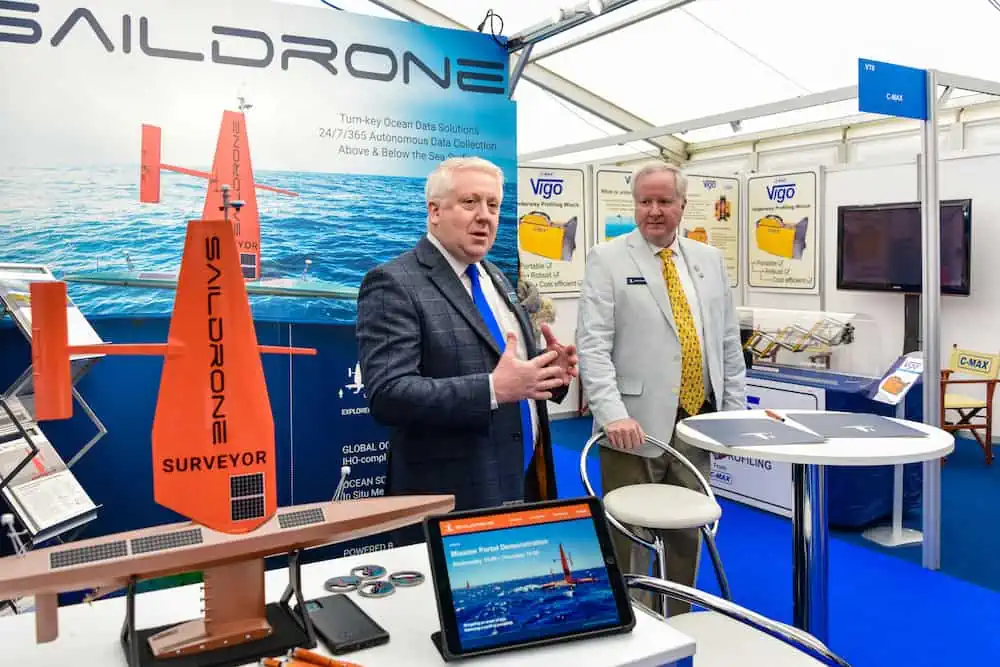 Saildrone has signed a Memorandum of Understanding (MoU) with Seabed 2030 to work together to advance ocean mapping in support of the United Nations Decade of Ocean Science for Sustainable Development, leveraging Saildrone's expertise in unmanned surface vehicles for ocean mapping.
The MoU, signed during Ocean Business 2023, outlines a shared commitment between Saildrone and Seabed 2030 to leverage technological innovation to more quickly and efficiently collect ocean mapping data and support solutions for ocean mapping and bathymetric data management.
Seabed 2030 is a collaborative project between The Nippon Foundation and The General Bathymetric Chart of the Oceans (GEBCO) to inspire the complete mapping of the world's oceans by 2030 and to compile all bathymetric data into the freely available GEBCO Ocean Map.
GEBCO is a joint program of the International Hydrographic Organization (IHO) and the Intergovernmental Oceanographic Commission (IOC) and is the only organization with a mandate to map the entire ocean floor.
Accurate ocean depths and seafloor topography are essential for navigation, telecommunications, offshore energy, and understanding weather and climate, but, according to Seabed 2030, only 23% of the global ocean has been mapped using modern, high-resolution tools.
"We can only realize our goal of a complete map of the ocean floor if we mobilize the international community and work together. We are therefore delighted to partner with Saildrone and leverage their expertise in unmanned surface vehicles for ocean mapping," said Jamie McMichael-Phillips, director of Seabed 2030. "The capabilities of Saildrone's fleet will greatly enhance our ability to obtain essential data and increase our understanding of the ocean, allowing us, in turn, to make informed and impactful decisions with regard to the future of the planet."
"Saildrone's vision is of a healthy ocean and a sustainable planet. A complete map of the ocean floor is fundamental to achieving that vision," said Saildrone founder and CEO Richard Jenkins. "We are proud to collaborate with Seabed 2030, to enable the mapping of our entire seabed, for the benefit of the global community."
Saildrone's fleet of USVs are designed to make ocean data collection cost-effective at scale, offering exciting new capabilities for ocean exploration and mapping. According to the company, its platforms are the only USVs capable of long-endurance ocean mapping operations using renewable energy as the primary source of power.
Surveyor-class vehicles carry a similar sophisticated suite of acoustic instruments to deliver International Hydrographic Organization-compliant bathymetry data to a depth of 33,000 feet (11,000 m). Saildrone's 33-foot (10-meter) Voyager-class vehicles are equipped for near-short ocean mapping to depths of 900 feet (300 meters).
Find suppliers of unmanned surface vessels for hydrographic survey, oceanographic research and other applications>>