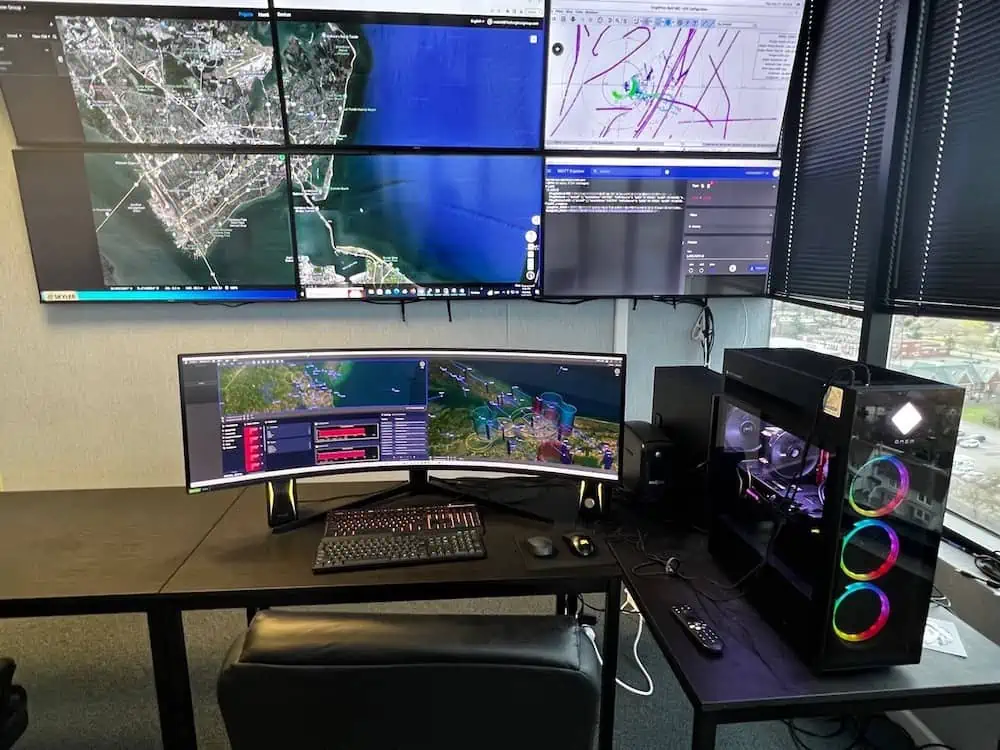 The Unmanned Systems Research and Technology Center (USRTC) at LONGBOW FORT MONROE has implemented the IRIS Terminal from Kongsberg Geospatial, to provide multi-domain situational awareness for UAS operations.
The LONGBOW FORT MONROE USRTC evaluates and implements Unmanned Traffic Management (UTM) and drone detection technology to develop the initial concept for a locally integrated UTM solution for Hampton Roads covering the management of both air and surface unmanned traffic.
Kongsberg believes that the key to safe operations is real-time situational awareness of both air and surface domains. Beyond Visual Line Of Sight (BVLOS) flights to/from Fort Monroe and NASA LaRC are envisioned. These flights will serve to establish the required system performance to enable initial maritime surveillance operations. BVLOS flights are anticipated in 2023 with several levels of build-up flight testing underway.
IRIS Terminal, now in its second generation, has been developed for the enterprise UAS sector for visualization of airspace traffic, as well as autonomous control of uncrewed systems in its GCS format.
Ownship, cooperative and non-cooperative traffic are all visualized by IRIS Terminal in multiple viewing configurations, along with useful features such as DAA sensor footprints, terrain awareness, or potential conflict warnings.
Where the same aircraft produces multiple tracks (one track per sensor), IRIS Terminals' 'smart correlator' feature will correlate these multiple tracks into one single track to ensure the UI remains uncluttered and the operator can focus on the work at hand.
IRIS Terminal is designed for governments, UAS test sites, and companies who want to implement BVLOS operations at scale in a safe and integrated manner, and incorporate public airspace information such as NSUFRs, TFRs and approvals embedded in LAANC and other regional UTM systems.
"We're pleased to be working with a professional testing and range facility like LONGBOW FORT MONROE USRTC," said Jordan Freed, President of Kongsberg Geospatial. "This is a facility that applies their expertise to multi-domain operations and few are doing that. At Kongsberg Geospatial, we've developed world class technology for sensor integration and airspace awareness. This provides a tremendous foundation for our partnership."
"Professional BVLOS unmanned flight operations require the very best in equipment and technology," said Ken Dudley, Longbow's CTO. "Kongsberg Geospatial provides what we believe to be a significant enhancement to the provision of air and water space situational awareness and therefore significantly improving safety."