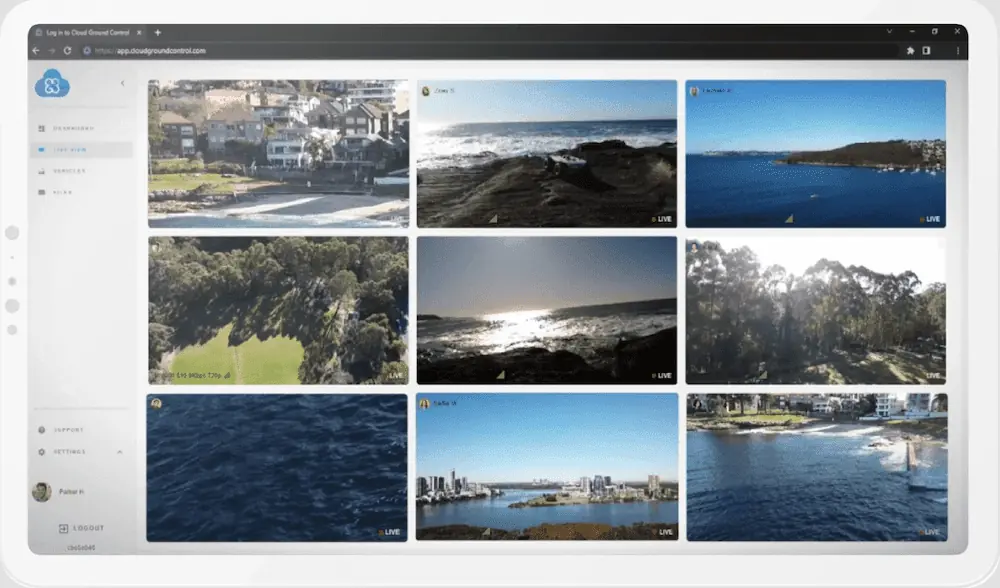 Cloud Ground Control, developed by Advanced Navigation, has launched CGConnect, its cellular micro-modem that uses 4G/5G networks to link any drone or robotic vehicle to Cloud Ground Control's cloud-based drone fleet management platform, enabling live-streaming, command and control from a web browser. 
According to Advanced Navigation, the unique and intelligent design philosophy of CGConnect means it can securely connect unlimited drones and vehicles into one holistic autonomous fleet across land, sea and air, regardless of manufacturer or model.
This provides mission planners and operators with full situational awareness for search and rescue, emergency response and disaster relief, vastly expanding human capabilities in robotic operation.
"In the drone age, humans rely on drones and robotic vehicles to achieve physically demanding and even unattainable tasks. For all the high expectations for what drones can do, there isn't a simple solution developed for multi-drone operation, which is becoming more and more commonplace in our lives," said Xavier Orr, CEO and co-founder of Advanced Navigation. "We are thrilled to bring forward our state-of-the-art technology CGConnect to demystify multi-drone operation. By making the process more accessible for everyone, we are enabling optimal security, communication and coordination in drone operations."
Connect fleets smoothly, safely, securely
AI modeling – AI algorithms are running in the cloud, relaying real-time camera feed data to the end user to support versatile missions, such as object detection, tracking and thermal imaging.
Open platform – The flexible and customizable open platform is operating on industry standards. This multiplies potential product applications and enables diverse autonomous vehicles and payloads to operate as a coordinated fleet.
High-grade security – Safeguards data and IP from vulnerabilities and security breaches, helping users meet compliance obligations.
Simple and accessible – Revolutionizes multi-drone operation by making it simple, cost-effective and accessible to users of every skill grade.
Edge AI – CGConnect supports edge AI to perform intensive object identification and classification directly on the vehicle for dynamic missions.
Revolutionizing disaster relief with Clean Earth Rovers
Clean Earth Rovers develops technologies that help to fight and monitor the quality of oceans. Its autonomous cleaning robot, the Rover AVPro, collects a variety of physical and chemical pollutants that have flowed into harbors and communities, supporting immediate disaster relief and the restoration of ocean health.
"We are now facing the perfect storm of climate change," said Michael Arens, Clean Earth Rovers Founder and CEO. "Environmental disasters contribute to poor water health. Floating debris and unseen chemical toxins under the surface are causing safety concerns, while natural habitats and wildlife are crippled and businesses continue to be disrupted."
To achieve its humanitarian and environmental missions, Clean Earth Rovers has deployed CGConnect across its fleet of Rover AVPros. This gave the robots direct access to the dedicated Cloud Ground Control platform, enabling emergency services or any vetted individual to log in through a web browser to view real-time footage from each robot's perspective, and respond proactively and constructively.
"Stressful times like these can severely undermine recovery efforts. Thankfully, with the support of CGConnect, Clean Earth Rovers has transformed its Rover AVPro into a connected autonomous fleet, giving our customers full situational awareness by the second and allowing us to make enlightened decisions," said Arens. "It was a cost-effective and simple solution, greatly accelerating recovery efforts and helping us to restore communities in a safer and faster way."
By connecting drones and robotic vehicles, CGConnect can elevate emergency response, disaster relief and search and rescue efforts. This means beach patrols are made more effective, with drones bringing marine threats to immediate attention, allowing lifeguards to take action promptly. Moving on land, thermal drones can scout for signs of life in bushfires, while ground vehicles can inspect potential hazardous areas before issuing a rescue team to retrieve spotted wildlife.