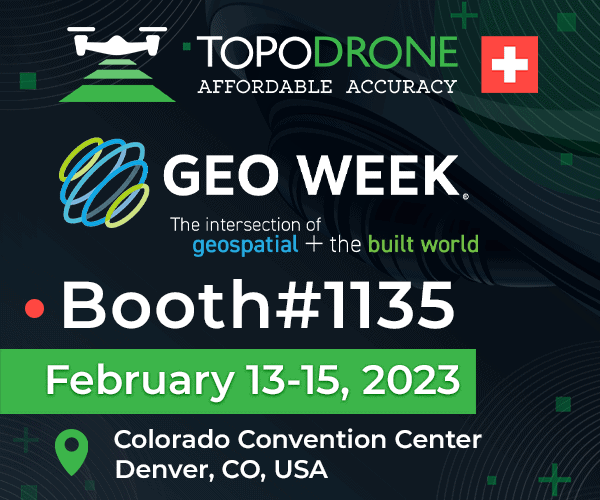 TOPODRONE, a Swiss based designer and manufacturer of high-precision surveying equipment, will exhibit at Geo Week 2023. The company will present its software solutions, high-tech surveying and mapping equipment and will also be running the following free educational workshops:
Large area LiDAR survey with FIXAR VTOL
Speakers: Maxim Baklykov, TOPODRONE CEO, & Ronald Schultz, Head of Sales at FIXAR
Monday 13th February at 16:00
Synchronization of Drone & Mobile laser scanning – Data capturing and processing workflow
Speaker: Maxim Baklykov, TOPODRONE CEO
Tuesday 14th February at 12:00
Bathymetric Survey with AQUAMAPPER
Speaker: Maxim Baklykov, CEO at TOPODRONE
Wednesday 15th February 15th at 11:00
TOPODRONE pioneers the synchronization of multiple surveying and mapping approaches on hardware and software levels. The company's equipment allows simultaneous acquisition of high precision LiDAR point cloud and outstanding aerial imagery both airborne and mobile.
AQUAMAPPER, a recent addition to the TOPODRONE hardware family, allows accurate underwater studies with the use of a UAV.
TOPODRONE photogrammetry and LiDAR solutions are applied in various industries, e.g. surveying, forestry, powerline inspection, mining and exploration. The compatibility of data collecting and processing tools makes it possible to accumulate and align all types of data: terrestrial, aerial, bathymetric.
TOPODRONE Post Processing software enables highly automatic GNSS and IMU post-processing, calculation of high-precision trajectory, generation of LIDAR point clouds, as well as automatic boresight calibration, strip alignment and SLAM-based enhancement. The software makes it possible to get up to 1-3 cm x,y,z accuracy. It contains a number of useful tools that every surveyor needs, such as the coordinate converter, editor and merging RINEX files, it supports various coordinate systems and Geoids.
Meet the team at booth #1135 in Colorado Convention Center (Denver, CO, USA) between February 13th and 15th and join workshops on data collection and processing.
Find suppliers & manufacturers of Survey Grade Drones & UAV >>