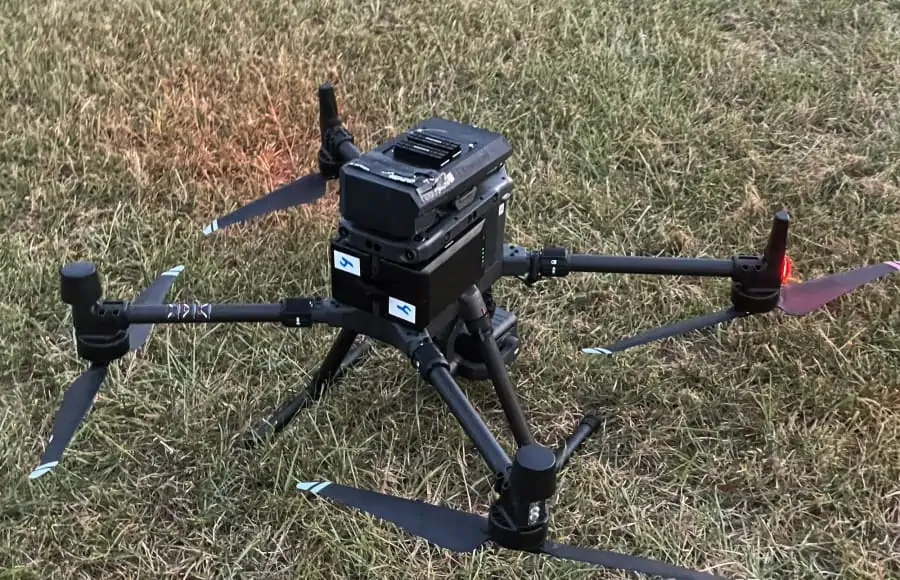 Paladin has launched the EXT, a new LTE module for DJI drones that is designed to help public safety organizations and departments start drone-as-a-first-responder (DFR) programs quicker and more effectively.
Paladin's mission is to develop drones that can give first responders a live overhead view of an emergency before they arrive, helping to increase situational awareness, decrease response times, and save lives. Following the success of the company's autonomous LTE-capable Knighthawk drone and Watchtower cloud-based DFR software, EXT is the next step towards equipping first responders with a one-stop solution for a more effective DFR response. Paladin EXT integrates directly with DJI Matrice 300 and Matrice 30 via the built-in PSDK port to leverage the extended range of an LTE connection.
With LTE connections, drones are able to safely travel beyond a 3-mile radius from their home base. Traditional radio-based drones carry limitations both in range and scalability because of the need for remote pilots-in-command (RPICs) with a direct connection from the remote controller to the drone.
By leveraging the power of LTE, agencies and departments can eliminate the need for larger fleets and RPICs on rooftops and cut down on unnecessary costs to cover the same area. LTE allows for a 3:1 coverage when compared to radio-controlled drones.
LTE is also a major factor in how Paladin is able to acquire BVLOS waivers without the need for a visual observer (VO) on a roof for its existing customers and partners.
Paladin founder Divy Shrivastava commented: "Paladin's mission is to build technology that saves lives. Every department that wants DFR should be able to use it – it's our responsibility as a company to remove barriers to make this happen. Now, with the EXT module, departments won't need to purchase new equipment to do it. It brings the ease of use and unlimited range of Paladin's C2 link to the amazing capabilities of DJI's Matrice lineup, making DFR more accessible than ever before."
Find suppliers & manufacturers of LTE Technology for Drones & Unmanned Systems >>