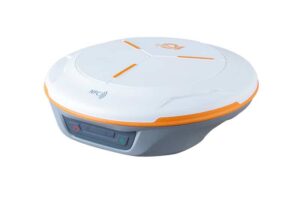 ComNav Technology has released the N2 Palm RTK, a new GNSS receiver designed for surveying, mapping and construction professionals. The lightweight receiver is only 48 mm high and can be used as either a base station or a rover in a wide variety of applications.
Powered by the SinoGNSS K8 high precision module, the N2 provides 1590 channels and tracks all current and planned constellations, including GPS, BDS-2, BDS-3, GLONASS, Galileo, QZSS and SBAS. Advanced satellite tracking technology ensures optimal operation even in challenging environments such as under heavy foliage or very close to buildings.
The third-generation inertial measurement unit (IMU) makes the N2 immune to magnetic disturbance, which greatly improves its reliability. Pole tilt compensation of up to 60° allows surveyors to locate difficult points precisely and easily while still maintaining positioning accuracy within 2.5cm. The N2 is calibration-free – after just 10 seconds of initialization, users can obtain tilt measurements with centimeter-level accuracy. With an integrated UHF modem, the N2 can achieve up to 15km working range
The N2 features a 10000mAh intelligent Li-ion battery, along with ComNav's patented low power consumption technology. It can be fully charged in only 5 hours and can work continuously for over 20 hours in the field. The built-in USB-C port makes it extremely convenient to charge with standard smartphone chargers or external power banks. As with ComNav's other products, the N2 has been engineered to high durability standards, including IP67 dust- and waterproofing, and an operational temperature range of -35 to +65°C.
With near field communication (NFC), the N2 can be connected to other NFC-enabled devices, such as ComNav's R60 data collector. Integrated V5.0 dual mode Bluetooth allows users to connect at long distances with low energy standards.