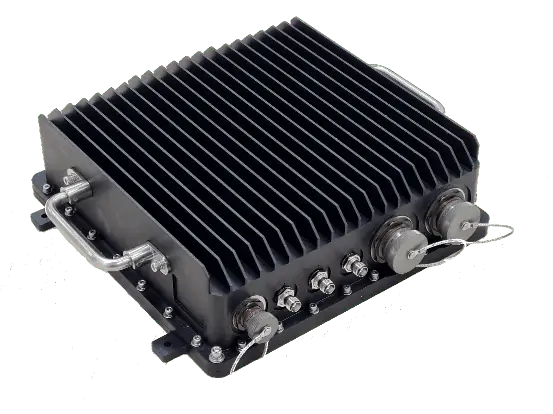 The Spoofer is Skylock's new counter-Unmanned Aerial Systems (c-UAS) solution, which has also been entered into the Eurosatory start-up competition and will make its debut at the show 13-17 June 2022 in Paris.
Skylock's c-UAS GPS spoofing solution has a unique patent pending technology that is effective against all UAS platforms equipped with GNSS receivers. Providing 'on the move' protection, the spoofer creates an effective 'no fly zone' of up to 3km and 7-10km of directional spoofing – protecting against fixed wing UAS at a longer distance.
With an independent interface, the spoofer integrates with other external systems and can be easily incorporated, added to, and combined with other c-UAS and detection solutions.
Once a threat is detected, the Spoofer immediately goes into action to eliminate the threat. With two modes of operation, the operator can choose whether to take manual action or predefine an automated response based on the threat analysis.
The Spoofer has already successfully proven its operational capabilities in the field and is currently used by one of the world's most experienced militaries. In real-world scenarios, it has proven itself against real threats and immediate danger, revolutionizing the way people deal with and defeat drone threats.
Skylock will be presenting its new c-UAS solution at the Avon HLS Group booth at Eurosatury 2022. The company will also be presenting:
Skybeam – a combat-proven counter Remotely Piloted Aerial Systems (RPAS) system, used in the Ukraine-Russia war after drawing attention from Ukrainian Chief of Staff and other top military officials. 
Sky Interceptor – a mitigation system that stops autonomous drones, swarms and loitering munition without collateral damage or crippling cost. A smart and simple kinetic mitigation solution that creates a high persistence countermeasure cloud to disable UAS' propulsion system. 
Trailer – a unique mobile c-UAS solution. The comprehensive long-range system easily moves between sites, avoids obstacles, and quickly change's locations when the threat shifts or when danger arises unexpectedly. With a focus on flexibility, the trailer is designed to move effortlessly, overcoming the main impediment of ground combat. Installed on the Trailer at the exhibit: Skylock's Premium Solution comprised of Radar 9360, Jammer, EO/IR Camera, and RF Detector.