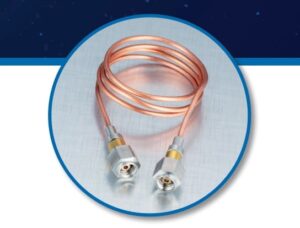 Times Microwave Systems has launched its new Clarity 110-SR semi-rigid test cable for advanced testing of military and aerospace applications such as UAVs (unmanned aerial vehicles) and unmanned systems requiring low loss and high phase stability at frequencies up to 110 GHz. The new Clarity 110-SR is specially designed to hold its shape after being bent around angles for installation within an enclosure for applications that require no movement of the cable assembly.
The Clarity 110-SR is the newest addition to Times Microwave Systems' proven Clarity Series, and performs comparably to the previously launched ultra-flexible Clarity 110, but the new SR version is a semi-rigid cable that accommodates tricky routing in tight spaces.
The Clarity 110-SR test cable is ultra-stable through 110 GHz with exceptionally low attenuation for critical mmWave high frequency measurements, where phase stability and repeatability are of concern. Clarity 110-SR features a simple, robust construction, made with just three components: a silver-plated copper center conductor, a solid PTFE dielectric, and a bare copper tube outer conductor. The copper material provides the right combination of flexibility and rigidity for maintaining a configured form.
John Muzzio, Applications Engineer at Times Microwave, noted: "The Clarity 110-SR is ideal for RF testing in high-technology applications where physical space is restricted. The more complex and demanding applications—especially those requiring high frequencies—need to be supported with equally advanced testing—and at Times Microwave Systems, we continue developing the range of solutions required for any challenge."