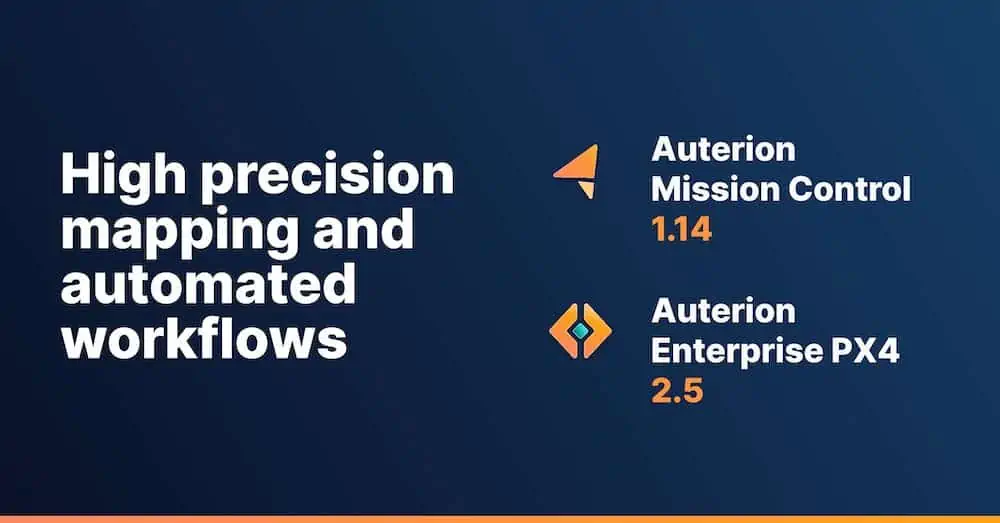 With its latest software release, Auterion introduces new capabilities for high precision mapping missions and automated, end-to-end data workflows to make mapping more efficient, reliable, and powerful.
Unveiled this week at AUVSI Xponential, the updates to Auterion OS serve enterprises with diverse use cases that need component and payload flexibility, alongside a centralized, streamlined software experience.
The ground station app, Auterion Mission Control, comes with fully integrated control of payloads such as the Sony Alpha 7R IV camera, including different lens configurations, for precise mission execution. AuterionOS captures geotagged images in real time and stores them on the vehicle. With the new release, PPK workflows are enabled by the Auterion PreciseFlight app, to quickly improve location data.
Live telemetry and video feed in the cloud
An important addition to seamless real-time workflows is the capability of the Auterion software to stream live video feed as well as telemetry data from the vehicle over the air to Auterion Suite.
Like on a command center, all vehicles in action are displayed on a map with their most important status information updated in real time. Live video feeds can be followed in parallel on dashboards generated from Auterion Suite. Program managers can see what is happening in the field in real time and can take necessary decisions immediately.
Further features
The registration workflow of Auterion-powered drones with Auterion Suite has been enhanced: registration is triggered from a vehicle dashboard, accessible via laptop when the vehicle is connected to Wifi, where you can quickly enter vehicle information and easily enable the full potential of cloud connectivity.
The new release brings additional security features in the deployment of Auterion-powered vehicles. One is the integration of Drone Rescue System's parachute recovery system, which automatically detects when the drone is having problems or is free falling. An emergency button in Auterion Mission Control can trigger the opening of the parachute. Another addition to security is a 3-stage automatic smooth landing, which will slow the vehicle down when it is approaching ground level, protecting the vehicle itself as well as the attached payload.