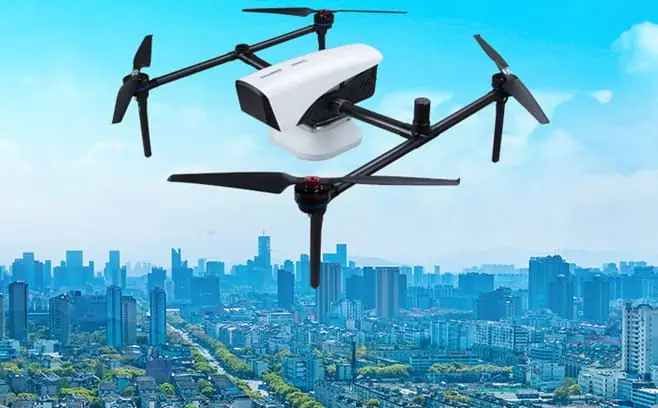 ComNav Technology has released a new UAV (unmanned aerial vehicle) mapping solution based around the company's K8 GNSS platform. The E300 drone, which comes with optional camera and flight control software, delivers centimetre-level accuracy and is ideal for a wide range of applications, including topographic survey, urban construction, forestry, emergency rescue, and mining.
The RTK-capable E300 drone supports a range of GNSS constellations and frequencies (GPS L1/L2/L5, BeiDou B1/B2/B3/B1C/B2a, GLONASS L1/L2, Galileo E1/E5-a/E5-b/AltBOC/E6, QZSS L1/L2/L5). With Quantum III technology, the embedded K8 GNSS module provides reliable and stable RTK positioning results, and PPK software is also supported. Built-in event synchronization technology reduces camera trigger error, ensuring high performance.
With a carrying capacity of 3 kg, the E300's payload bay is compatible with a wide range of cameras. Payloads can be quickly and easily swapped in the field for maximum versatility. The E300 supports the standard NTRIP protocol and is also compatible with a variety of base stations and CORS systems.
Featuring an ultra-efficient aerodynamic design, the E300 is capable of up to 60 minutes of flight without a payload, and 50 minutes with a basic payload, covering areas with a maximum 10 km radius per flight and mapping areas of around 0.62km² (1.5cm/px GSD) on one battery charge.
The aircraft's simplified design allows easy and rapid assembly within 1 minute, while still providing excellent stability and vibration resistance. The UAS is supported by ComNav's proprietary flight control software, which provides a clear interface, and easy workflow, satisfying the needs of high-precision aerial survey operations.