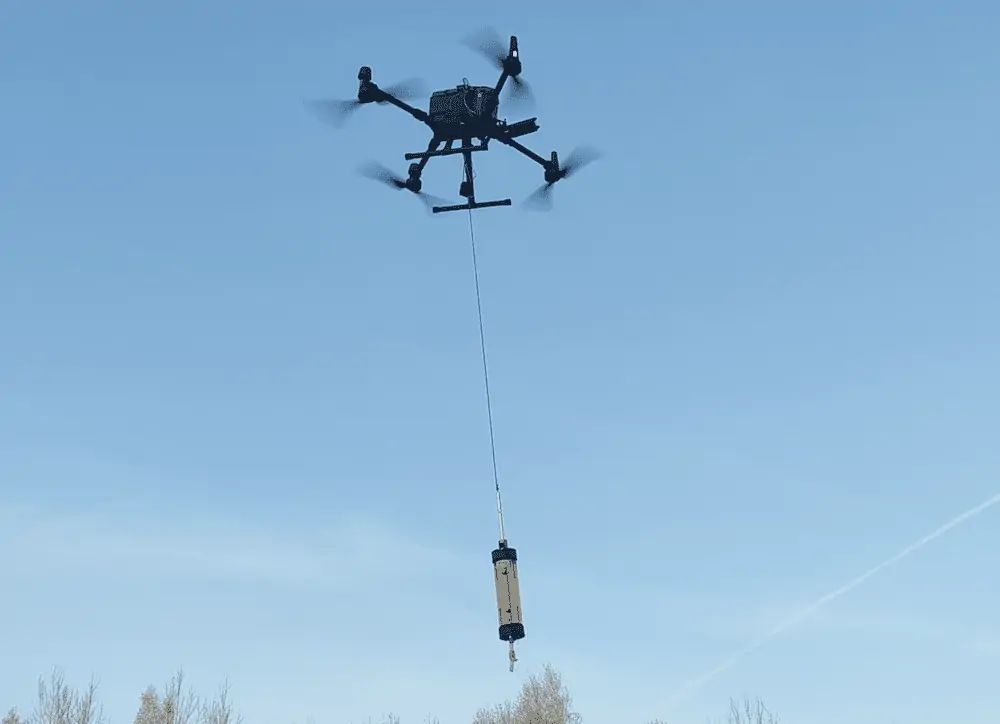 SPH Engineering has released a new Unmanned Aerial Vehicle (UAV)-based Remote Water Sampling System within UgCS Integrated Systems' product line. A trial flight was conducted at a Latvian lake to proceed with water sampling for subsequent analysis in a laboratory.
One benefit of this new system is the possibility to take up to 1L water samples at a considerable distance from the bank or water access points (piers, bridges, etc.) or in hazardous test locations impossible for a boat or ship to navigate.
The system combines a drone (either DJI M300 RTK or DJI M600 Pro drone), Ruttner water sampler, and SPH Engineering's UgCS SkyHub onboard computer, a radar altimeter, and UgCS ground control software. Additionally, SPH Engineering has developed the messenger release device.
"Traditional water sampling methods require direct access to the water body and samples are gathered from the shore, pier, bridge, or boat. A sampling at some distance from the solid ground in absence of a boat or ship is impossible. A remote sampling system based on UAV solves that problem, allowing water sampling far from shore," said Alexey Dobrovolskiy, CTO at SPH Engineering.
The system has been developed upon the request of the Latvian Environment, Geology, and Meteorology Сenter. According to the Сenter representative, "it is a great tool for improving safety in the water sampling process and ensuring efficiency. Such a system would be useful for institutions like the State Environmental Service to obtain a water sample from polluted waters quickly and safely. The system allows water to be taken repeatedly from the same location at a constant depth. The limitation to our workflow has been the volume that could have been larger to maintain even more practical work. A big advantage is the optional equipment (an altimeter and UgCS software) for both safety of the drone during the flight and the improved altitude accuracy above the water."