Charles River Analytics has been awarded an approximately $400,000 follow-on contract from the National Oceanic and Atmospheric Administration (NOAA) to continue development of SOUSAPHONE, a software package that enables Unmanned Aerial Systems (UAS) swarms to safely conduct semi-autonomous wildlife survey operations.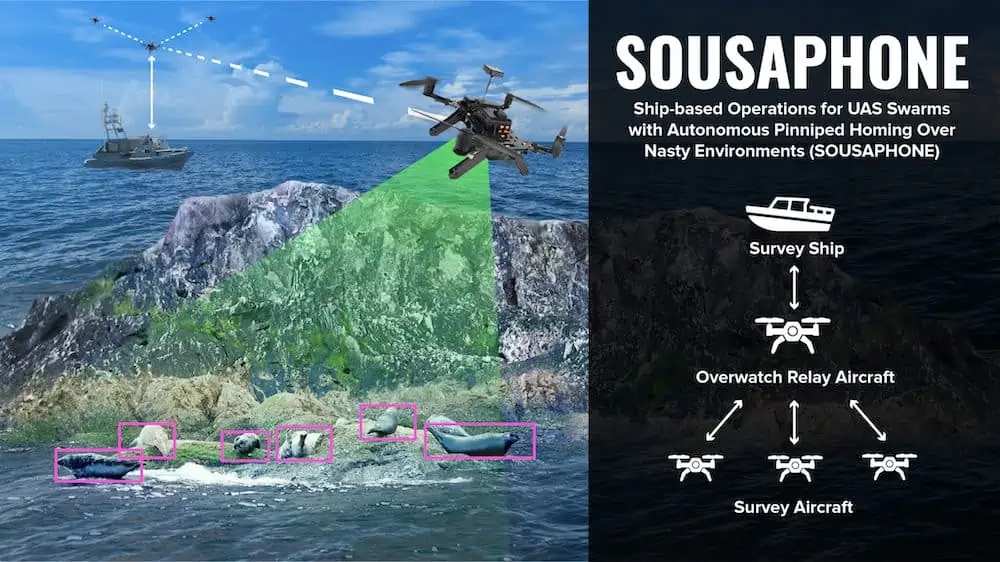 UAS swarms operating as part of a SOUSAPHONE-enabled team use autonomous navigation and robust, state-of-the-art image processing algorithms for marine mammal detection and classification. SOUSAPHONE is specifically designed to detect pinnipeds, the group of animals that includes walruses and seals.
SOUSAPHONE applies Artificial Intelligence and Machine Learning (AI/ML) in computer vision to enable safe, semi-autonomous, Beyond Visual Line Of Sight (BVLOS) operations in challenging environments, such as the Alaskan Arctic.
"With SOUSAPHONE, we've applied the autonomous robotic capabilities from our defense AI portfolio to support environmental research," said Daniel Stouch, Director of Space and Airborne Systems in Charles River's Sensing, Perception, and Applied Robotics Division, and Principal Investigator for the SOUSAPHONE effort. "We're excited to continue enhancing our swarm autonomy capabilities to advance environmental awareness and conservation."
The SOUSAPHONE framework will improve wildlife accessibility and surveying accuracy, reduce risk to humans, and develop autonomy advancements that support wildlife conservation.