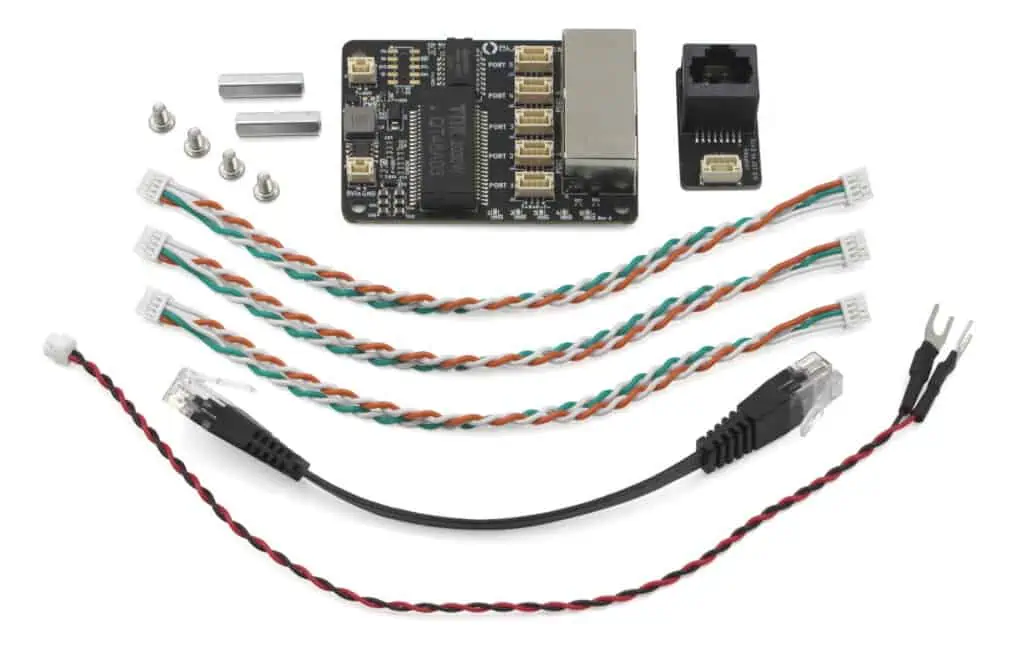 Blue Robotics has released a new Ethernet Switch that expands Ethernet connectivity on the company's BlueROV2 underwater ROV (remotely operated vehicle). The device provides three additional Ethernet ports that can be used to connect a range of devices such as sonars and IP cameras. The switch was designed in collaboration with BotBlox, leveraging the company's expertise in developing Ethernet switches for robotics.
The Ethernet Switch is designed to complement Blue Robotics' Fathom-X tether interface board, with the same dimensions and mounting holes so that it can stack on top. Two RJ45 port connections are available to quickly connect the Fathom-X and Raspberry Pi through the switch, while the remaining connections are broken out to JST-GH connectors that follow the Blue Robotics Connector Standard. The board can be powered from a wide voltage input up to 60V and has low power consumption, and indicator lights show activity on each port.
The switch comes with an RJ45 to JST-GH adapter board for convenient connection of Ethernet devices during testing, and solder splicing one of the included JST-GH cables to the device is recommended for long term integration on an ROV. An article by BotBlox detailing testing performed on the Ethernet Switch under a variety of conditions can be found here.
Blue Robotics has also released an Ethernet Switch integration guide that walks users through the installation on the ROV and shows how to connect particular Ethernet devices.