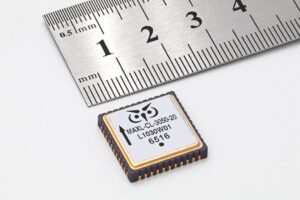 Physical Logic has confirmed that it has completed the qualification and production readiness stages for the MAXL-CL-3050, a new 50g range closed-loop MEMS accelerometer based on the company's flagship MAXL-CL-3000 family. This family of accelerometers is designed to compete with traditional mechanical accelerometers in precision navigation applications such as UAVs (unmanned aerial vehicles) and robotics.
The company has released selected test results from the MAXL-CL-3050 qualification program, during which units were exposed to a series of environmental tests over a period of several weeks.
Download the test results here
The first production units of the MAXL-CL-3050 underwent typical acceptance tests including temperature, vibration, and centrifuge measurements up to 50g. Units that passed the acceptance tests were then randomly selected for the Qualification Test Program (QTP).
The QTP began with a temperature cycle to fit a baseline temperature model for the units' bias, scale factor, and misalignment behaviour. A comprehensive temperature cycle program was then applied, including storage and operational cycles. Following this, comprehensive dynamic tests were applied, including various vibration and shock profiles in multiple directions. Finally, the first temperature cycle was repeated to compare the temperature behaviour to that at beginning of the QTP, in order to test temperature model repeatability.
Physical Logic has also begun testing and prototyping of a 70g MAXL-CL-3070 accelerometer.