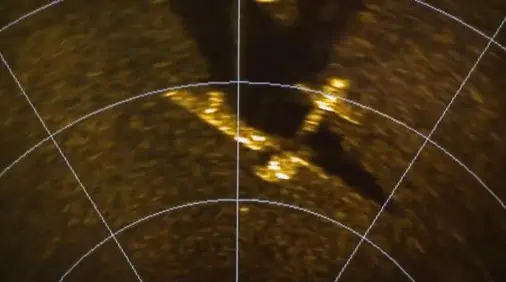 Seafloor Systems has confirmed that a team of hydrographers has discovered a submerged plane on the bed of Folsom Lake, a large man-made reservoir used by the company to test hydrographic survey equipment aboard unmanned surface vessels (USVs).
While conducting routine tests, live feed sonar images appeared to show wings, a fuselage, and tail section of a small aircraft approximately 160 feet below the surface. Drought conditions in the California foothills have translated to lower-than-average water levels, making it easier for the sonar system to paint a clear image of the downed plane. The discovery prompted the team to take a closer look, and they returned to the site with a submersible ROV (Remotely Operated Vehicle) fitted with a camera.
Though suspended silt caused some visibility difficulties, the lights on the ROV clearly illuminated a propeller and tail. Working with Placer County Sheriff's Office and the El Dorado County Sheriff's Office, the team determined that the aircraft was from a previously reported 1986 case where a plane went down with no fatalities.