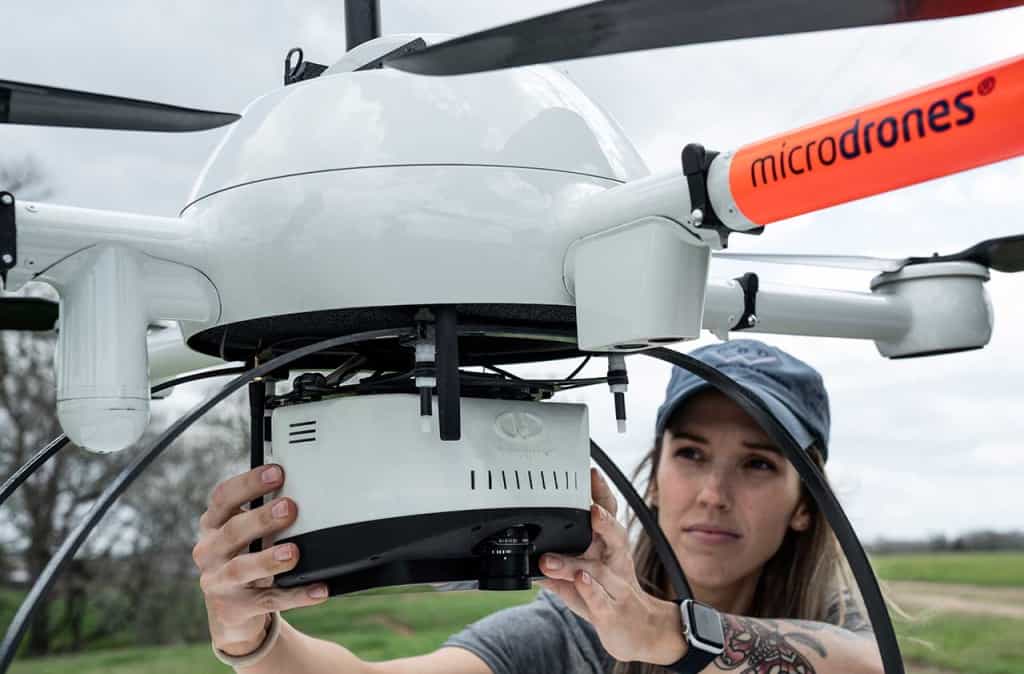 Microdrones has released a new set of episodes of its "Down to Earth" reality series, which focuses on the challenges and hazards faced by real UAV (unmanned aerial vehicle) surveying crews, as well as how they create real data deliverables. The new episodes follow civil engineering and surveying firm Carlson, Brigance & Doering, Inc. (CBD), as they use drone LiDAR to create updated, accurate boundary surveys.
Watch the new episodes on Microdrones' website
The team at CBD needed to survey a challenging 550 acre tract of land in Southern Texas. The property boundary follows the Colorado River, which has changed significantly since the original survey from the late 1800s. While a traditional survey could take a field crew several weeks, the drone LiDAR equipment used by CBD will create an updated, accurate boundary survey in only a few days.
The first episode of the new series introduces , R.P.L.S. and Vice President at CBD, as he reviews the project, challenges, and end deliverables needed. Aaron sends UAV Pilot and GIS Specialist Laura Brown, into the hill country of Bastrop, Texas to collect the data using drone Lidar.
Episode 2 follows Laura as she handles over 14,000 linear feet of steep banks, muddy terrain, and rushing water along the Colorado River, using the drone-based LiDAR system to safely collect the data.
The final episode of the series takes place in the CBD office, where Laura uses mdInfinity, a complete software solution for drone LiDAR, to see if the data can be processed and visualized to create a point cloud of the property and determine an accurate boundary.
Aaron Thomason commented: "Collecting the lidar data will allow us to generate these high banks and low banks and any of the other terrain features we're having to deal with in order to create a boundary on this project. There's also some drastic elevation changes in the topography along the river. So, it makes much more sense to use a drone that's 50 meters in the air to collect the data, rather than introduce some hazardous terrain to climb."
Laura Brown said: "Wind and weather are the main challenges, especially this time of year. I also need to be aware of any wildlife in the area or any livestock. I'm on undeveloped property, quite a lot and that's one of the main advantages of the Microdrones system- the drone can get to areas I might not be able to access."