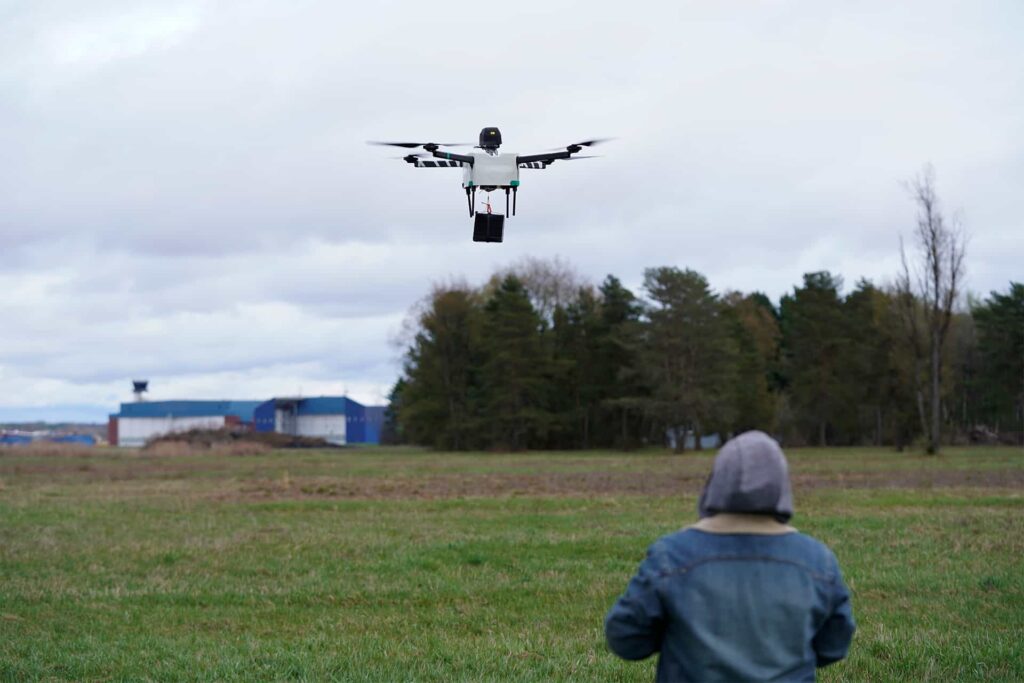 NUAIR (Northeast UAS Airspace Integration Research Alliance) has recently tested a drone parachute recovery system at the New York UAS Test Site with a series of rigorous safety and failure scenarios. The system, manufactured by Aerial Vehicle Safety Solutions Inc. (AVSS), was tested on a Horsefly drone from Workhorse.
NUAIR acted as a third-party validation service, with the successful tests proving that the AVSS parachute recovery system complies with ASTM International parachute standard F3322-18. This means that Workhorse can expedite their Durability and Reliability Testing requirements, and commercial drone pilots utilizing this platform combination can fly over people legally and safely.
In the event of a malfunction in the air, the AVSS parachute recovery system will automatically cut power to the drone, deploy its parachute, and allow the aircraft to descend slowly from the sky. This safety system significantly decreases the potential of harm to people or property on the ground and reduces the risk of damage to the drone itself.
NUAIR has now conducted three successful validations for AVSS. Because drones come in many shapes and sizes, the parachute validation is tied specifically to the type of drone that was used during testing. The Federal Aviation Administration (FAA) prohibits most drones from being flown over people. New rules recently published by the FAA have made the process to legally fly over people easier, one of which removes the need to apply for a waiver to fly over people if the drone pilot can show they have robust safety mitigations in place that meet an FAA-approved method of compliance (MOC). The MOC is still being finalized, which includes the parameters of having a validated parachute recovery system.
The validation of AVSS's PRS product on the Horsefly allows Workhorse and its partner United Parcel Service (UPS) to advance their concept of economically viable, routine package delivery via drones. The Horsefly a custom-built, American-made drone designed for safety and efficiency, can fly autonomously, and can undergo the rigors of day-to-day deliveries. Workhorse has developed electric delivery trucks which pair with the Horsefly, providing a take-off and landing pad on the roof with charging capabilities and a control center for the driver to program the drone's delivery route.
Anthony J. Picente Jr., Oneida County Executive, said: "The AVSS drone parachute tests conducted at Oneida County's UAS Test Site at Griffiss are vital to ensuring safe commercial drone operations. Our test site continues to lead the way in drone development, and these latest standard validations will advance the entire industry to new heights. With our partners at NUAIR, Oneida County is flourishing as a world-renowned hub for UAS innovation."
Tony Basile, chief operations officer of NUAIR, commented: "It was great working with AVSS again and I'm happy we were able to successfully validate their product to two more platforms. Our crew at the New York UAS Test Site has these validation tests down pat, making the whole process effortless and cost effective for our clients."
Josh Ogden, chief executive officer of AVSS, stated: "When AVSS needed to complete the ASTM standard with Workhorse, a drone delivery partner, NUAIR was an obvious choice to partner with again. Working with the NUAIR team ensures that our customers know we've partnered with the premier FAA designated test site and that our parachute recovery system will be properly validated. As we continue integration of our various PRS models into commercial drones and drone delivery platforms, we look forward to continuing this partnership."
John Graber, President of Workhorse Aerospace, commented: "We're delighted with our team's performance. They've worked months preparing for the rigors of ASTM qualification, and it speaks well for our team and our product that we passed 45 of 45 test events with no failures. We could not be more proud of our people and their work. And that includes the AVSS and NUAIR teams. They are demanding professionals who perform to very high standards. We look forward to fielding our Unmanned Aerial Systems with ASTM-approved AVSS parachute systems."
Find suppliers & manufacturers of UAV Parachute Technology >>