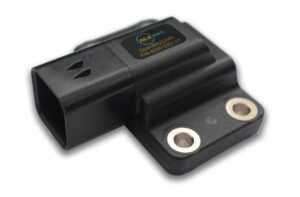 ACEINNA has launched the OpenIMU335RI, an inertial measurement unit (IMU) based on the company's Gen 3 architecture and the first of this generation with a rugged sealed construction.
Providing CAN and RS232 interfaces, the OpenIMU335RI delivers 1.3 degrees per hour bias instability (BI) and 0.1 degrees per root hour Angle Random Walk, making it ideal for applications requiring high performance inertial measurements such as drones and robotics.
As with all ACEINNA's Gen 3 products, the OpenIMU335RI is triple redundant, with three independent 3-axis accelerometers and 3-axis gyros. This redundancy provides increased performance in key acceleration and rate sensor characteristics, and increased reliability and equipment uptime in the field. ACEINNA's proprietary algorithm detects a failing sensor and automatically eliminates it from the solution, allowing systems to continue normal operation using the remaining sensors.
The OpenIMU335RI is packaged in a rugged sealed housing with an Ampseal 16 six-position connector and CAN J1939 and RS232 interfaces for network connectivity. The miniature housing is formed using an over-molding process, providing a completely sealed solution that prevents any possible water ingress and is durable under tough environmental conditions. The unit can operate from an unregulated 9 V – 32 V supply and is fully qualified for use in 12 V and 24 V vehicle systems. A 3D magnetic field sensor is available as an option for applications requiring 9-DOF IMUs.
The OpenIMU335RI is based around an ARM M4 CPU with a floating point unit, and runs the OpenIMU open-source stack that includes an optimized full-state Kalman filter for attitude and GPS-aided position-velocity-time (PVT) measurement. The open-source environment allows developers to optimize algorithms for specific unmanned vehicles and applications, with a free development tool-chain supported by Windows, Macintosh and Ubuntu. The free ACEINNA Navigation Studio supports data logging and visualization.
Michael DiGangi, Executive VP of ACEINNA, commented: "This new IMU adds to ACEINNA's successful line of 6 and 9-DOF IMUs and provides even higher performance for designs that need it. It is the same size and has the same electrical interface as our popular OpenIMU300RI and MTLT305D sensors, giving existing customer an upgrade path to higher performance without redesign."
Find suppliers & Manufacturers of Inertial Measurement Units >>