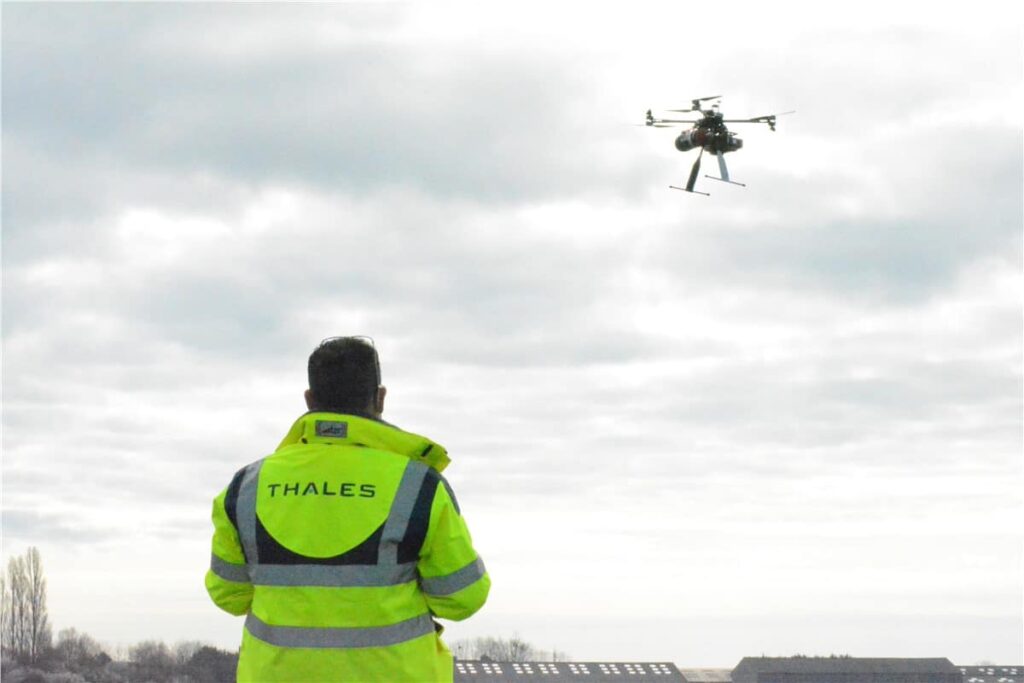 Thales, Drones-Center and ZenT have successfully demonstrated a new unmanned aerial system (UAS) powered by hydrogen fuel cell technology. The test flights were conducted in order to prove the industrial and operational feasibility of the platform, which provides enhanced flight performance as well as being more environmentally-friendly.
Hydrogen fuel cells are a highly suitable propulsion technology for professional drone applications, which can often require high efficiency, long range and significant endurance. While various propulsion technologies meet these criteria, hydrogen fuel cells are a particularly effective way to increase the drone's endurance due to the low mass and high energy density of hydrogen.
The hydrogen-powered drone flew for more than 2 hours with a hydrogen fill time of under a minute, and demonstrated uniform performance throughout each flight, which is not the case with battery-powered systems. The fuel cell can be mounted on the drone in the field, and the system also provides the flexibility needed to quickly configure payloads for different types of missions.
In order to ensure regulatory compliance, Thales' ScaleFlyt Geocaging solution was installed on the drone. This technology combines expertise in robotics, security technologies and certified avionics systems to deliver highly reliable flight containment capabilities for UAS operations. Developed with support from the French civil aviation authority (DGAC), ScaleFlyt Geocaging guarantees that the drone remains in a designated area throughout the flight.
Emmanuel Guyonnet, drone programme director in Thales' Flight Avionics division, commented: "Hydrogen drone technology opens up new opportunities in applications such as surveillance of sensitive sites and military facilities. Equipped with ScaleFlyt operational safety technologies and integrated into Thales's Security Digital Platform, hydrogen drones will be able to conduct complete missions drawing on high-reliability, affordable, easily deployable solutions."
Find manufacturers & suppliers of Hydrogen Fuel Cells for Drones & Unmanned Systems >>