Designed by Sentient Vision Systems located in Melbourne, Australia, ViDAR combines Optical Radar, Artificial Intelligence (AI), Computer Vision and Deep Learning, to process onboard video imagery in real time. It's capable of detecting very small objects on the ocean surface that would otherwise be invisible to a visual observer and other sensor payloads.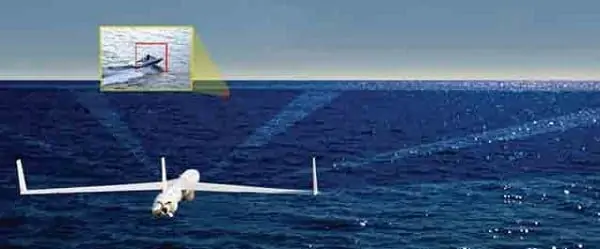 A typical SAR (Search and Rescue) mission would normally require a mix of 'Mark One Eyeball' trained visual observers, search radar and a turreted EO/IR sensor which can be trained in any direction but is normally used to sweep the search area and investigate objects that a visual observer has spotted. The search area itself would usually be known in advance and the effects of winds and currents considered in determining where to begin the search.
But even a high-resolution EO/IR sensor has only a narrow field of view. It can't cover the entire ocean surface continuously. High sea states might obscure objects intermittently. And sometimes the object is so faint or obscure that the operator can't see it. Factoring in platform speed, environmental factors or operator fatigue towards the end of a long mission, it would be easy to simply miss a small, ambiguous, hard-to-spot object. This is the value of ViDAR: it maintains autonomous, persistent wide-area surveillance across a 180 degree swath.
Revolutionizing SAR Operations
ViDAR is starting to revolutionise SAR operations. Operators including the Australian Maritime Safety Authority (AMSA) have proven its value on both manned aircraft and UAVs such as the Insitu® Scan Eagle. ViDAR delivers three main benefits:
Firstly, and most importantly, it increases by an order of magnitude the likelihood of finding a survivor in heavy seas, both by day and by night, which ultimately increases survival rates.
Secondly, it reduces the direct operating cost of mounting a sustained SAR presence over a coastline or stretch of open sea. Not only does ViDAR enable searches to be undertaken far more quickly, with less wear and tear on air assets, it also reduces operator fatigue and task saturation: operators remain fresher and more alert over time.
Thirdly, ViDAR can be mounted on both manned aircraft (fixed and rotary wing) and UAVs with Sentient now also providing quick install, all-in-one ViDAR VMS pods. The difference in direct operating costs between a manned aircraft such as a P-8A Poseidon, P-3 Orion or A400M (as used recently in a short-notice contingency) and a UAV is exponential. So is the difference in operating architecture: depending on the sea area concerned, a number of UAVs could be launched to conduct independent searches simultaneously and relatively inexpensively, with their imagery being fed back to a ground-based control centre.
A UAV could then hold over the survivor until a rescue ship or helicopter arrives on scene – the cost of keeping a UAV on station is far less than that of keeping a manned aircraft there. And, taking a cue from Surf Life Saving Australia, a new generation of drones could be equipped with droppable stores to air drop to survivors while they're awaiting rescue.