Aero Development Japan Co., Ltd. (ADJ) has conducted operational tests on a new combined hybrid power unit designed for heavy and long-distance drones.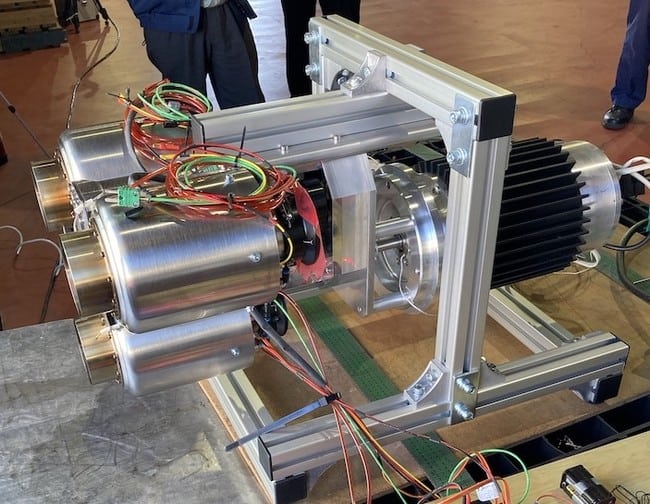 The hybrid power system combines a Halbach generator and gas turbine with ESC / motor for high voltage propellers of DC300V (AC200V) class drones, enabling the drones to carry up to 50kg payload, for up to 60 minutes.
The team at ADJ identified that the weight energy density (battery capacity per unit weight) of lithium-ion batteries used in many drone platforms is a limiting factor for flight times, even with increased battery capacity. To address this issue, they have combined a small gas turbine engine and a Halbach generator* to generate electricity.
A gas turbine engine (90 to 100,000 rpm) that rotates at high speed can drive a small but high-performance generator with a special magnet array called the Halbach array, which can exceed a weight output density of 1 kW / kg.
ADJ has conducted a partial load operation test of the hybrid power unit and extracted power from the fuel input to the small gas turbine through a generator for propellers. In addition, the team also successfully tested the motor propeller that rotates at DC300V (AC200V) class.
This solution makes it possible to efficiently supply the high voltage power of the hybrid power unit to the propeller motor. As a result, the current can be significantly reduced, making the wiring smaller and lighter, eliminating the need to mount a voltage converter, and mounting a larger payload. ADJ are preparing to install it in a drone as a hybrid power system that combines a hybrid power unit and a high-voltage motor / ESC module.
Flight tests of a drone equipped with this hybrid power system are planned to take place later this month. If a hybrid powered drone with a total weight of over 150 kg can be flown stably, it will be a big step towards opening up new unmanned markets such as logistics and disaster response.
* A note about the Halbach Generator
In a magnet array (called a Halbach array) in which the magnetic poles are rotated at a predetermined angle and arranged in a row, the magnetic flux on the back side of the array is applied to the front side, and a smooth and strong magnetic field is generated on the front side. By combining this magnetic field with a coreless coil, the output voltage of the generator does not drop even if a large current is taken out, a generator with less vibration and noise can be realized, and a weight reduction of about 30% is realized. This technology is a patented invention of Professor Morishita of Kogakuin University, and the license of the Halbach generator is owned by the ADJ development partner.
Find manufacturers & suppliers of Power Systems for Unmanned Applications >>