Odense Robotics, a national cluster focused on innovation and sustainable development for robotic, drone and automation businesses, has confirmed that Lorenz Technology has developed two new technologies through their "Digital Omstilling – Innovationssamarbejder" innovation programme.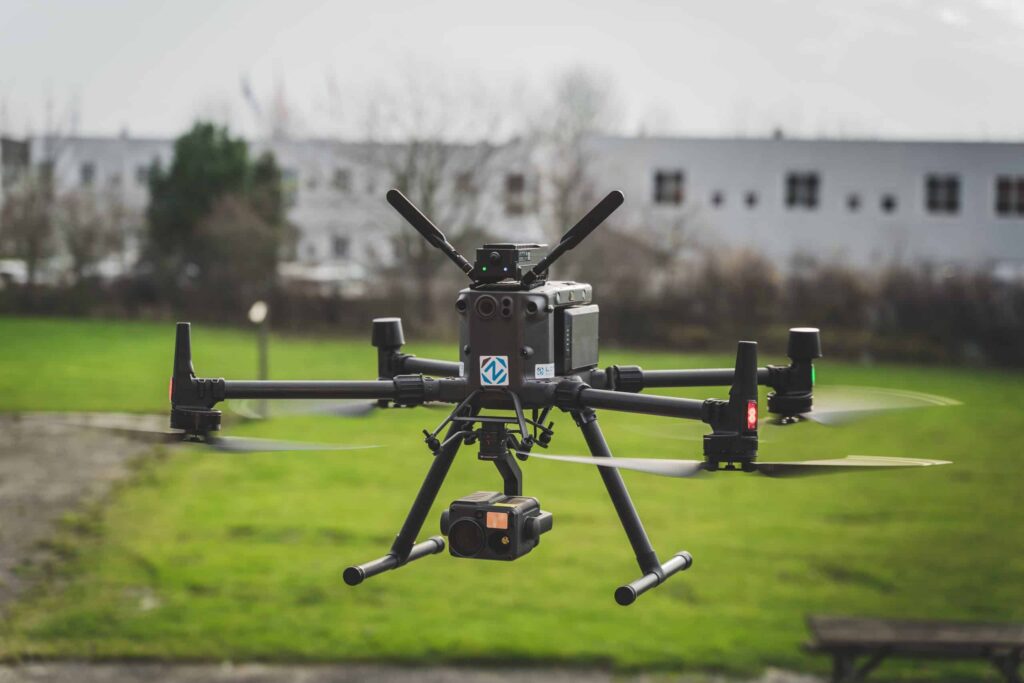 The innovation programme run by Odense Robotics and Business Hub Fyn. funds projects where an SME collaborates with other SMEs and a knowledge institution on developing new technology within Industry 4.0.
Lorenz Technology develops intelligent drone technology for security, safety and surveillance to the commercial market. Over the last couple of years, the team has developed new technologies through four different Digital Omstilling – Innovationssamarbejder projects including a secure and user-friendly remote control drone system with unlimited range. Their drone delivery technology enables precise and easy-to-use autonomous delivery of objects.
Nicole Sophie Christiansen, Senior Innovation Manager at Lorenz Technology speaks highly of Odense Robotics explaining, "The programme Digital Omstilling – Innovationssamarbejder enabled us to develop various applications within drone technology, including our AI-driven drones and edge-computing on the Lorenz AI-Link. Thanks to Odense Robotics and Business Hub Fyn, we had access to financing and partners that provided us with new knowledge and specialised assistance, which enhanced the quality of our products".
Secure remote controlling of drones
In their very first Digital Omstilling project, Lorenz Technology developed the Lorenz Hive software, which grants the user easy control of the drone's route planning and data collection by mounting the Lorenz AI-Link on a drone or mobile robot. In their most recent project, the company wanted to become the most GDPR and IT security compliant drone company by improving their applications and their remote controlling technology.
Normally, all drones are operated by controls within limited range, however the latest solution uses the Lorenz AI-Link to enable remote controlling of drones at unlimited ranges (depending on surrounding mobile networks), which companies can use within security, inspection etc.
Collaboration was the key to success
Lorenz Technology developed the solution in collaboration with Focus Advokater, Fionia IT and the University of Southern Denmark (SDU). Focus Advokater supplied essential knowledge on GDPR regulations, data management, and how to comply with privacy standards when collecting data, while FioniaIT provided guidance on how to comply with ISO standards, and the needed knowledge on data security and digital infrastructure. SDU was responsible for the GPS spoofing technology.
"Through the Digital Omstilling – Innovationssamarbejder programme, we had the chance to work alongside three partners who made a great difference to the development of the technology. That was the greatest thing about the programme – we got to collaborate with others where we could make great use of each other's expertise and by doing that reach new levels within drone technology," says Nicole Sophie Christiansen.
Drone delivery at scheduled times and locations
A precise and user-friendly drone to autonomously transport and deliver an object from a to b – from a specific height at a scheduled time was also recently developed. Heights and timing are notoriously difficult to programme when it comes to drone delivery, but were possible here by using camera tech and the Lorenz AI-Link to calculate the drone's location. Processing and data analysis can then all be done onboard the drone through the Lorenz AI-Link instead of remotely.
Lorenz Technology also collaborated with Micro Technic and SDU, who provided the necessary components and knowledge for the delivery technology, while Lorenz Technology developed the drone's positioning application and release mechanism. Micro Technic designed and created the weatherproof Lorenz AI-Link casing that utilises the air flow around the drone to cool it, and SDU delivered a SORA and technical risk analysis.
The drone remote controlling project now has a prototype, and the interface is in development. Lorenz Technology is currently looking for test partners for the development of the remote controlling applications; "We are now ready for scaling the commercial aspects and work on the implementation of autonomous drones." Line Toft Sørensen, Lorzenz Technology.
Article credited to Stephanie Sørensen from Odense Robotics.