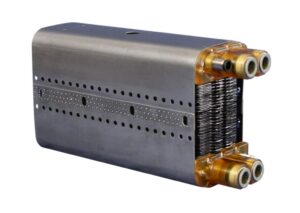 Northwest UAV (NWUAV) has completed a prototype hydrogen fuel cell that has been developed in conjunction with the U.S. Naval Research Laboratory (NRL). The fuel cell has been specifically designed to meet the high power-to-weight ratio and harsh operational requirements of UAVs (unmanned aerial vehicles) and unmanned systems.
The Proton Exchange Membrane (PEM) fuel cell has already completed initial operational testing, and NWUAV and NRL plan to make additional developments to the prototype before undertaking a test flight later this year.
The compact and lightweight PEM fuel cell creates electricity through the direct electrochemical process of turning hydrogen into water. The system's design allows for modularity and scalability to meet the different power requirements of a broad range of unmanned systems. The prototype contains 48 cells and is rated for 1400 watts of continuous power. The high efficiency of fuel cells combined with the high energy of hydrogen make this solution ideal for long-endurance electric propulsion.
Dr. Karen Swider-Lyons, Director of the Laboratory of Autonomous Systems Research at the U.S. Naval Research Laboratory, commented: "It is very gratifying to turn research sustained by the Office of Naval Research into a commercial product. With new manufacturing support from the Department of Defense Manufacturing Technology Program and a cooperative agreement we are creating a new generation of aerial propulsion technology that will greatly advance the capabilities of our warfighters."
Dr. Ben Gould of the U.S. Naval Research Laboratory's Alternative Energy Section, Chemistry Division, said: "This is the most advanced and efficient hydrogen fuel cell ever produced for unmanned systems applications. This particular design is based on a culmination of 15 years of research on hydrogen fuel cells and dozens of flights on various unmanned aircraft. A stackable design is uniquely scalable and easily customizable to fit various propulsion requirements and can maximize power-to weight ratio."
Jeff Ratcliffe, NWUAV Chief Technical Officer, stated: "The unmanned systems industry is rapidly evolving. Qualities like reliability, maintenance, operating cost, and efficiency are becoming increasingly significant to manufacturers and their end users. Hydrogen fuel cells have very few moving parts resulting in high reliability and low maintenance. They promise the long endurance of an internal combustion system at the low operating costs of battery powered systems, creating a compelling value proposition for the unmanned systems industry."