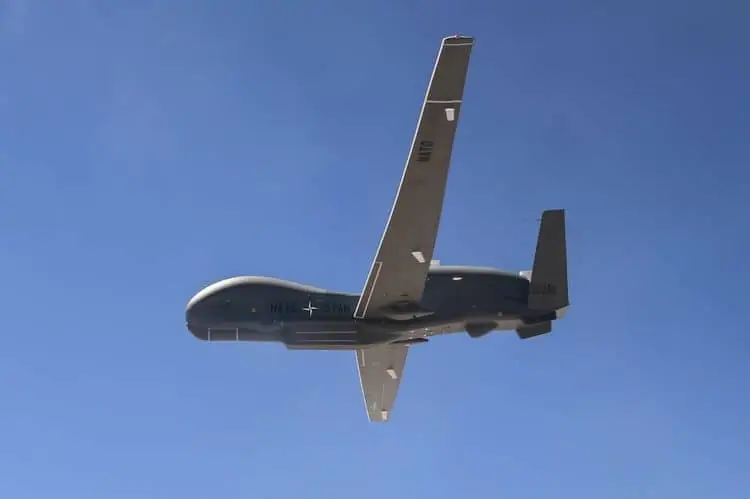 NATO's Alliance Ground Surveillance (AGS) Force, made up of Northrop Grumman Corporation's RQ-4D Phoenix Global Hawk variant UAS (unmanned aerial systems), has achieved a declaration of initial operating capability (IOC) from Supreme Allied Commander Europe. The UAS unit will give NATO commanders an uninterrupted 24/7/365 in-theatre intelligence, surveillance and reconnaissance (ISR) capability.
The AGS consists of five unmanned aircraft, ground and support segments, along with advanced sensor technologies. The Phoenix UAS has met the rigorous standards required for military type certification and has also been approved by the Italian Directorate of Aeronautical Armaments and Airworthiness (DAAA). Companies from across NATO member nations, including Leonardo, Airbus and Kongsberg, comprise the Northrop Grumman-led industry team that developed the NATO AGS capability.
RQ-4D Global Hawk's wide area surveillance capability, in conjunction with the fixed, mobile and transportable ground stations, will support a full range of missions, including protection of ground troops and civilian populations, border control, crisis management and humanitarian assistance in natural disasters. The aircraft's high-altitude, long-endurance capability allows it to deliver an unprecedented amount of ISR data to the NATO Alliance without interruptions. With the state-of-the-art main operating base at the Italian Air Base, Sigonella, Italy, data can be rapidly disseminated to allied forces.
Jane Bishop, vice president and general manager of autonomous systems at Northrop Grumman, commented: "NATO AGS will help the Alliance with persistent regional defense and deterrence. The commitment of the entire AGS team partnership – both government and industry – has shown incredible dedication, working across cultures, time zones and languages, all aiming toward one goal – providing the Alliance with this critical capability."