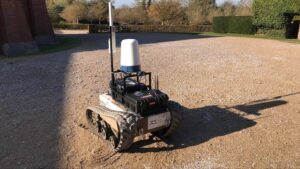 tpgroup has been developing Northstar autonomous navigation software, designed to safely navigate an unmanned vehicle across a remote landscape, miles from its base station.
The development has progressed to the first stage of land trials using the X3, a small unmanned testing vehicle with a top speed of 12.4 mph, developed by Digital Concepts Engineering (DCE). The X3 is part of the X-series which has been used in numerous MOD autonomy trials.
Initial trials
The land trial will demonstrate how well Northstar works with a suite of tools, including DCE's Marionette™ system (a universal control system) used on the X3.
It will also show how Northstar can continue to safely navigate an unmanned vehicle in real-time without a GPS signal. This is critical to mission success when operating in remote or challenging environments as GPS is often weak at best, needing direct line-of-sight communication with GPS satellites to work.
The initial trial has already seen Northstar enable the X3 to plot a course across land the size of a football field and reach an end point without mishap or human intervention. In achieving this, Northstar showed that it understood what was happening around the X3, using its sensors to 'sniff out' its environment and check this against pre-recorded GPS and other available data and maps.
Next stages
The next stages will see the trials become more complex, both in the pathfinding exercises and obstacle avoidance, as well as in demonstrating its ability to control multiple connected autonomous platforms. The trials will extend to other larger vehicles such as a Humvee and this will also form part of the US Department of Defense project to demonstrate how a connected unmanned convoy of vehicles can safely navigate through remote and hostile terrains to deliver critical missions.
Development in the land domain follows Northstar's success in reaching commercial readiness for the maritime sector and opportunities to use it across different applications including congested ports, research & surveying, environmental disasters and mine sweeping.
About Northstar
Cutting-edge, patent pending Northstar software produces dynamic risk aware optimised path planning for autonomous platforms. It does this by creating a digital twin of its environment, fusing any known data and updates through sensors, and can respond in real-time to changes in the environment, with interoperability across multiple platforms – to enable safer, efficient and sustainable missions
This software can be used effectively to help organisations to successfully achieve three critical functions:
Discover: Survey; inspect; surveillance
Deliver: People; supplies; effect
Plan: Safe and secure autonomous operations
In the video below John Shimell, tpgroup's Head of Autonomy & Spatial Modelling, talks through the possible use cases for Northstar and its capabilities to support organisations across a range of applications: