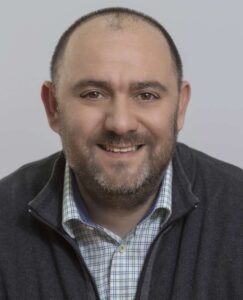 Epsilor Electric Fuel's VP of Sales and Marketing, Felix Frisch, has authored the following article that outlines how reliable lithium batteries and mass charging solutions will be critical for the next evolution of drone technology. Formerly he was a Business Development Executive in the UAS Industry. Epsilor is a leading developer and producer of battery packs and chargers for a wide range of market sectors, including defense, marine, aerospace, and industrial.
The unmanned aerial vehicle (UAV) industry, which has its origins in military requirements, is undergoing a tremendous transformation as civil drone use becomes a common solution for home deliveries. Multirotor drones are now used by giant corporations, such as Amazon and Walmart, to deliver everything from takeaway meals to sneakers. Fixed-wing drones, operated by California-based Zipline, are currently being used for urgent deliveries of blood and medicines to remote hospitals in Africa and the US.
Israel, one of the pioneers of military UAV development and operations from the 1970s through to today, is making a significant step forward by launching a nationwide pilot program of non-line-of-sight (NLOS) UAV flights, paving the way for European countries to follow. The usage of drones has spread to airfreight applications, mapping, oil and gas exploration, and other industrial, agricultural, and commercial missions. On the military side, demands are also changing, and UAVs are serving not only as an 'eye in the sky' but also as loitering munition systems that can be operated at a lower cost than cruise missiles.
In the past, most UAS were used for military operations and operated in military segregated areas, with no civilian traffic and thus an extremely low risk of mid-air collision. Today, drones fly in highly populated civil areas and must be equipped with autonomous abilities to prevent crashes and fatal failures that could have severe consequences.
As missions become more complicated, drones are required to fly over highly populated cities and regions and must meet civil aviation regulations, such as those published by the U.S. Federal Aviation Administration (FAA). Such regulations help facilitate the integration of drones into general aviation airspace, and protect the public in case of drone crashes.
New safety and reliability requirements
The changes in both civilian and military drone applications have led to new requirements for mission safety and aircraft reliability. The scenario of a drone crashing into a school yard is intolerable whether it carries a payload of a warhead or a box of shoes. New start-ups have developed safety parachute systems, loud alert horns, and precision landing capabilities that operate in GPS-denied environments or in non-line-of-sight flight conditions.
At the same time, one important field of expertise is not receiving appropriate attention considering its vast importance for drone safety: batteries and charging. When addressing battery and charger performance requirements such as longer mission endurance and faster charging, battery safety and reliability are too often considered a requirement of secondary importance.
In parallel with the dramatic changes in the UAV market, the lithium battery industry has witnessed a revolution of its own. Improvements in battery energy and power density have enabled drones to takeoff vertically and operate with longer endurance and range. The addition of smart battery management systems (BMS) protects batteries from short-circuiting or thermal runaway, and such systems also communicate battery status to drone avionics, further improving vehicle performance.
Cutting-edge battery technology now offers a range of advantages to UAV companies, including:
Endurance and maneuvering: battery electrochemical properties determine the vehicle's endurance and its ability to perform rapid avoidance maneuvers.
Operation in extreme weather conditions: battery composition determines a drone's ability to operate in both cold and hot weather, which is critical for endurance and power and feasibility to perform a flight in different climatic areas and in different seasons.
Battery wellbeing, monitoring and safety alerts: sophisticated battery management systems can improve mission safety, preventing critical failures or even thermal runaway while in the air. Moreover, such BMS can detect battery chemical and electrical anomalies, such as poor balance, long before dangerous conditions develop. The BMS can then alert the operator, enabling a safe landing away from the crowd. The same sophisticated BMS should also provide an alert in case of an aging battery, allowing the operating unit to remove this battery from the fleet before it influences flight endurance and before damage is caused.
Improved safety
Traditional lithium batteries are not equipped with the required electronics for optimum safety and are often comprised of low-quality, low-cost electrochemical cells. They might be adequate for a ten-minute sortie of a RC model, but are insufficient to power a cargo delivery drone that flies over people in a major city.
Batteries play a major role in improving drone safety, as high-end batteries with advanced electronics offer improved control which can be essential for modern operators that may be required to operate a fleet of drones simultaneously, requiring them to better control each individual drone. A smart BMS will be able to provide an automatic alert to an operator of a large fleet that cannot pay attention to anomalies.
Advanced batteries equipped with BMS can provide operators with highly critical data. The size of these systems has been minimized, making them suitable for drone use, and they are becoming more economically viable. The BMS can output the number of cycles, the battery's remaining capacity and its health status, while compensating for problems such as extreme temperatures or overuse. These batteries also support common communication protocols.
Drone manufacturers can significantly improve their offerings by including these powerful batteries equipped with advanced management systems and communication capabilities that can check and report on battery condition and failure potential. By using such energy sources, designers can improve the flight monitoring and prediction.
Management of battery inventory
Another critical yet promising issue is related to the ability of a BMS to enable the management of broad battery inventories by an automated command and control system. Military units are usually equipped with several spare batteries for each drone, but as the number of drones in use is constantly on the rise, a real need has arisen for efficient management of energy budgets and battery inventories.
A squadron that operates a swarm of drones must manage its energy budget, as this directly influences available flight hours. This also applies to a civilian delivery company that operates many UAVs with a high operational tempo. Operators of such heavy-duty missions need to improve efficiency, which cannot be achieved with independent, unconnected energy sources. These operators will also require mass charging capabilities in order to simultaneously charge many batteries in several locations with short timeslots.
The solution to these challenges is a joint charging network that can handle such tasks as managing 24/7 battery changing, monitoring energy budgets in all company locations, and prioritizing flight missions between such locations. In addition, it should be capable of keeping track of aging and malfunctioning batteries, while supporting the purchase process of new batteries and associated equipment. The network should support fast or slow charging according to mission intensity and differing operational hours over a working day, and possibly operate a robotic battery replacement system that automatically works with drones returning from missions.
As the drone industry makes a huge step forward, manufacturers still working with standard Li-Po batteries should be reminded that while avionics, sensors, payloads and structure materials take up a majority of the design focus, batteries, which are often neglected, are also a critical component that may significantly improve flight endurance and flight safety. Improved battery systems may also dramatically reduce air vehicle time on the ground, while improving the operational efficiency of large drone fleets. Greater attention paid to onboard energy systems by drone developers and aviation regulators is expected to result in the still further advancement of the drone industry.
Contact Epsilor Electric Fuel to learn more about their battery packs and chargers.