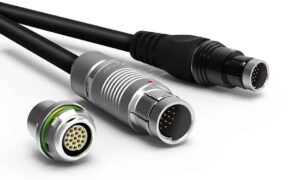 Fischer Connectors has authored the following article explaining the factors required for connectors to operate reliably in conditions of extreme cold or extreme heat. Fischer's COTS (commercial off-the-shelf) and custom connectivity solutions are widely used in UAVs (unmanned aerial vehicles), UGVs (unmanned ground vehicles) and other robotic platforms operating in harsh environments.
Connectors are crucial components that often get overlooked when designing devices for applications subject to extreme temperatures. They can make or break mission-critical equipment, and failure can put lives at risk. Beyond considering a product's operating temperature, it is important to assess the performance of connectors and cables in their specific operating environment.
Fischer Connectors offers not only standardized products that operate within certain temperature ranges, e.g. from -55°C to +135°C for the ultra-rugged Fischer UltiMate Series, but also customized solutions designed to reach much higher or lower temperatures for dedicated applications.
In cold environments, choosing the right materials and connector configuration matters. Since connectors often freeze and crack, connectors enclosed in plastic and rubber are too fragile and let moisture in. Some metals are also unsuitable, as they fail to protect devices adequately from the elements. Although rarely used in extreme conditions, fiber optic is a good choice at low temperatures – e.g. to measure strain and temperature during powering tests on superconducting magnets at 1.9 Kelvin, or along liquefied natural gas (LNG) pipelines down to -180°C.
The robust Fischer FiberOptic Series was made for demanding applications. For maximum flexibility and optimal weather protection, it offers one, two or four optical channels (or hybrid with two optical and two electrical contacts), and features IP68 mated & IP67 unmated ingress protection (Norm IEC 60529) and UPC & SM APC polishing. It guarantees reliable, long-term high optical performances for high precision and data transmission rates in harsh/extreme environments (Norm IEC 61753-1 Cat. E).
Performance tests conducted at cryogenic temperatures (1.9 Kelvin) at the European Organization for Nuclear Research's (CERN) SM18 test facility confirmed the ruggedness of the Fischer FiberOptic connectivity solution. The CERN tests demonstrated that these connectors operate effectively in extreme cold, with a minimal effect on insertion and return losses, and on optical and sealing performance. The connectors are also user-friendly, with push-pull mating plugs & receptacles, and easy to maintain and clean in the field.
(Click here to download a whitepaper that gives full details of the cryogenic tests performed at CERN on the Fischer FiberOptic connectors)
In hot environments, connectors have to withstand high external temperatures – of natural or industrial origin – and avoid becoming a heat sink themselves. Plastic is usually unsuitable, as it may not resist stress, or may melt, burn, give off dangerous fumes or cause explosions. Some metals like steel or aluminum may overheat. Brass and fiber optic connectors are ideal, e.g. for defense, marine and medical markets, needing high-heat protection and maximum flexibility.
The highly configurable Fischer Core Series includes high-performance chromium-plated brass connectors, in IP68/69 sealed and hermetic versions, that resist extreme temperatures (from -100°C to +200°C) and chemicals, making them suitable for vacuum and underwater applications. Their premium materials also allow them to withstand most sterilization methods, useful in medical applications. Custom overmolded cable assemblies, including in thermoplastic & silicone, are also available for high heat resistance.