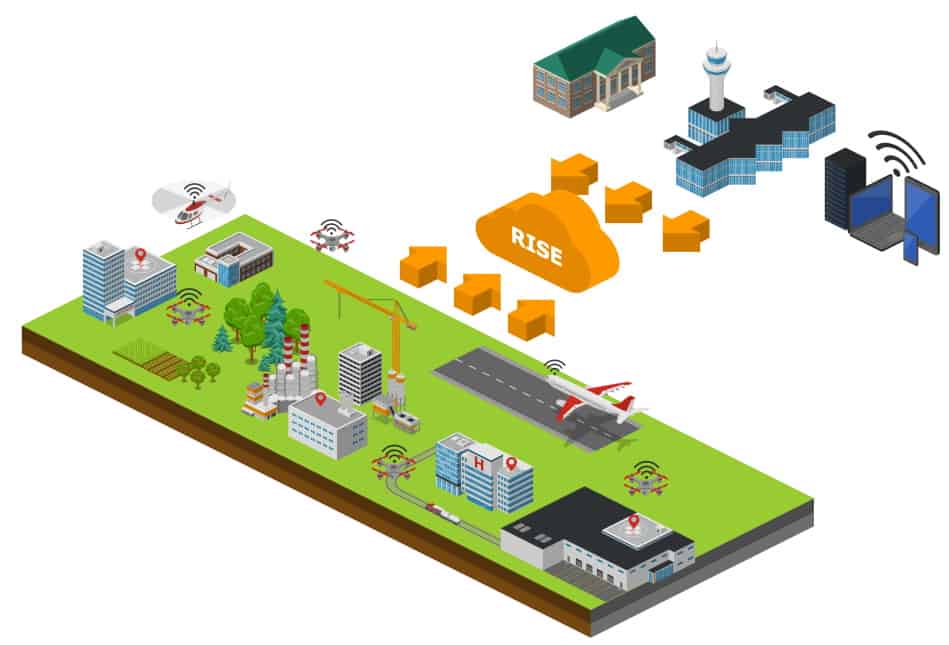 Drone management software developer Dronecloud is leading a consortium that is researching innovative Beyond Visual Line of Sight (BVLOS) technologies for unmanned aerial vehicles (UAVs). The consortium, known as Project Rise, is part of the Future Flight Challenge project, funded by UK Research and Innovation through the multi-billion-pound Industrial Strategy Challenge Fund. Dronecloud has partnered with leading industry specialists including Sky-drones, Cranfield University and Skyports.
Project Rise aims to develop systems that will integrate evolving Unmanned Traffic Management (UTM) technologies with the onboard control systems of UAVs. This will form part of a centralised Command and Control (C2) solution, based on Dronecloud's existing Software as a Service (SaaS) platform. The project is part of an overall effort across the drone industry to integrate disparate systems at scale and achieve safer, more reliable and auditable drone flights, even beyond the line of sight.
Project Rise will initially develop a proof-of-concept system, consisting of an integrated software and hardware hub and incorporating UAS hardware, ground control stations, flight commissioning and planning, flight control and telemetry, deconfliction services, supplementary data feeds, airspace authorisations, flight noticeboard, Electronic ID, auditability, flight termination, accident and incident reporting, and digital flight logging. The project will culminate in field trials of a BVLOS drone delivery operation at the Cranfield University test facility. The system will work within the Open UTM framework to identify and create open system integrations that will be transferrable to the wider drone industry.
Jan Domaradzki, Dronecloud Co-founder and CEO, commented: "Moving beyond the hype to integrate drones into congested urban airspace remains a tough nut to crack, and that's a good thing. It's our job to create the behind the scenes systems that will ensure it can happen safety at scale, in order to win the trust of the public and regulators. It's a great honour for the team at Dronecloud to gain the backing of the Future flight challenge to form this consortium. We're looking forward to creating the infrastructure for the aerial highways of the future."
"In many industries, drone operations have evolved organically, with more and more tasks being completed by drones as the benefits are better understood. As operations become more complex, Dronecloud and its partners ensure that they are both compliant, efficient and, above all, safe in how they operate. With dozens, if not hundreds of drone projects running, the traditional mosaic of multiple datapoints, spreadsheets, emails, is just not a sustainable way of managing operations."