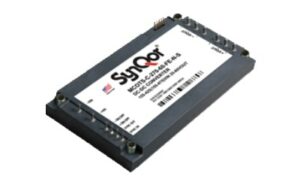 SynQor has expanded its Mil-COTS (military commercial-off-the-shelf) DC-DC product range with two new full-brick DC-DC converters based on the company's next-generation, isolated, fixed frequency synchronous rectifier technology. The modules' high power density makes them ideal for SWaP (size, weight and power)-limited applications such as UAVs (unmanned aerial vehicles), UGVs (unmanned ground vehicles) and robotics. The MIL-STD-704 compliant converters can downconvert a 155-425 V input voltage range to an adjustable output between 10-40 Vdc for the MCOTS-C-270-40-FE or 25-60 Vdc for the MCOTS-270-60-FE.
They also have an adjustable current limit feature that allows them to power unlimited capacitive loads or a battery. When the load current demand is above the set current limit, the unit behaves as a constant current source, delivering constant current independent from the output voltage. When operating below the set current limit, the unit behaves as a regulated voltage source delivering a fixed regulated voltage to the load. The designer can select the output voltage through trim resistors or by adjusting the voltage into the voltage set pin. The modules are designed to provide extremely high power conversion at high efficiency throughout the entire output power range, with low power dissipation characteristics that allow designers to deliver full power to the load at baseplate temperatures as high as 95 °C.
The highly flexible encased modules have been designed to operate in extreme military environments, and are ideally suited for radar, battery charging, electronic warfare, RF power amplifiers, solid state lasers, tilt-rotary wing applications and more. The converters also include an advanced set of features including serial communication for module configuration and monitoring, integrated active current share for paralleling applications, an external clock synchronization to improve EMI performance, and a battle short feature that overrides the over-temperature shutdown feature in case the designer needs to continue to operate the unit past its intended temperature range.