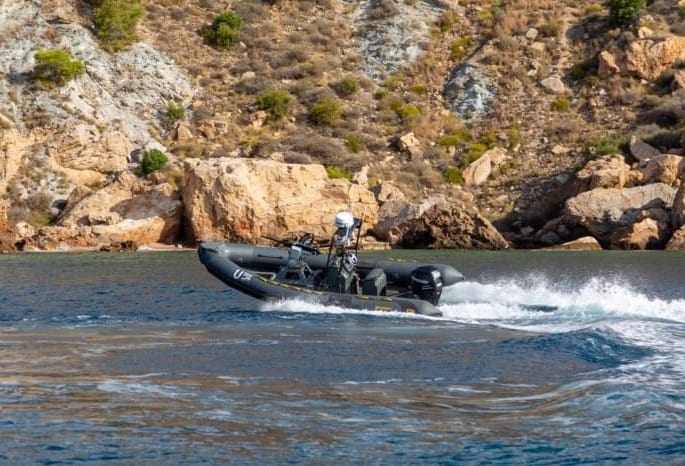 UTEK has performed sea trials with its new USV (unmanned surface vessel) for maritime security and defense applications, the Kaluga DS. Based around a Narwhal 670 RHIB with 150HP Mercury Verado outboard engine, the vessel incorporates Leonardo's Lionfish Ultralight 12.7mm remote weapon station and Miltech's advanced surveillance equipment. UTEK developed the USV's unmanned capabilities, as well as its ground control station (GCS) which allows the vessel to be operated either from shore or on board a ship.
The trial was performed with support from the Spanish Navy and Ministry of Defense at Argameca Naval Station in Murcia. The system's fully autonomous navigation capabilities and mission planner software were successfully tested and validated. According to UTEK, the integration of advanced surveillance and weapons systems provides the vessel with excellent potential for security and defense maritime operations such as maritime asset protection and defensive/offensive fleet reinforcement.
Leonardo's Lionfish Ultralight 12.7mm remote weapon station is a lightweight system that provides target detection at ranges of over 7km both during the day and at night, and also features a laser range finder that allows an effective shooting distance of up to 2000 meters. With an ammunition capacity of 250 rounds, it can provide support for a wide variety of maritime operations.
Miltech's MILT-SUR-RTM is an IP-based, ONVIF (Open Network Video Interface Forum)-compatible family of E/O (electro-optical) surveillance systems specially designed for harsh maritime environments. Product variants include uncooled and cooled systems, gyro-stabilized pan-tilt and optional laser range finder. The systems are modular and fully customizable to user requirements.