Alker, a leading provider of fiber optic technologies for defense, aerospace and space, has partnered with Unmanned Systems Technology ("UST") to demonstrate their expertise in this field. The 'Gold' profile highlights how their fiber optic solutions can be used for UAVs (unmanned aerial vehicles) and drones, as well as unmanned underwater vehicles such as ROVs (remotely operated vehicles).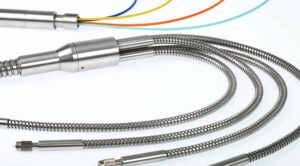 Alker's armored fiber optic solutions are designed to provide superior performance and reliability even under extremes of temperature and vibration and in the presence of dust and moisture. The company continually expands the range of connectors that can be successfully armored to withstand the demands faced by UAVs, unmanned vehicles and military systems.
The Micro Armoring range is ideal for size- and weight-constrained applications, available in diameters of 1.5mm to 3mm and providing the highest level of protection. For larger applications, 4.5mm to 25mm diameters are available for either single- or multi-fiber assemblies, which can include both fiber and electrical contacts.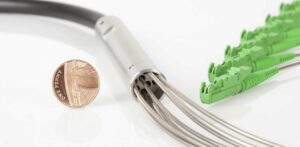 With high extinction ratios, rigorous orientation specifications and enhanced protection, Polarisation Maintenance (PM) fibers provide unprecedented reliability and performance in challenging environments. Available orientations include fast, slow or custom axis in FLAT, UPC, 8° FLAT or APC polished finish. The range of available connectors includes FC, SC, LC, MU and E2000.
Alker also offers a retrofit armoring service that can help protect and increase the longevity of your existing fiber optic installations. The service is available for all modes of fibers, including single-mode, multimode and polarization-maintaining. 1.5mm to 9mm stainless steel armoring is available as standard, with other specifications, as well as jacketed and CST (corrugated steel taped) armoring, available on request.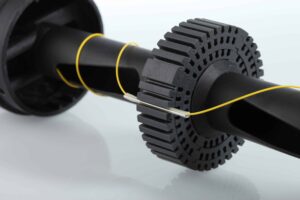 Fiber optic splice enclosures provide maximum protection for sensitive fibers exposed by splicing two cables together. The enclosures' unique splice organiser simplifies the process, saving valuable time and money during installation and extending the lifetime of fiber optic cables.
These enclosures can be deployed for a variety of applications, including open-air and submarine fiber optic cables. All entry points are sealed against moisture and dust and protect the spliced fibers from environmental stressors as well as mechanical damage.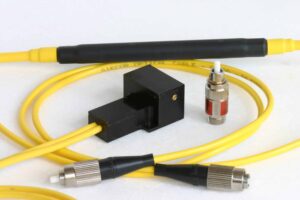 Alker's range of fiber optic patch cords are terminated at both ends with fiber optic connectors to minimise attenuation. Options include:
Standard Patch Cords and Pigtails – utilising common fiber optic connectors and optical fiber including 9/125 OS1 (OS2) Singlemode, 50/125 OM2, 3 and 4 Multimode and 62.5/125 OM1 Multimode. Available in 1,2,3,5 and 10m configurations.
Polarisation Maintaining Patch Cords and Pigtails – manufactured with tight-tolerance keyway fiber optic connectors and bow-tie, panda or elliptical PM fiber, providing excellent extinction ratio and insertion loss.
Attenuated Patchcords – reduce the light transmitting through the fiber and thus the insertion loss from anything between 1dB to 20dB, with higher values if required. Fixed attenuators or variable optical attenuators (VOA) are available.
Angled Connector Patchcords – provide a 90-degree bend on exit from the connector, shortening overall length. Can be orientated north/south/east/west as required.
Alker also offer a wide range of services, including consultancy, custom design and manufacture, fault-finding, repair and support.
To find out more about Alker and their fiber optic solutions for UAVs and robotics, please visit their profile page:
https://www.unmannedsystemstechnology.com/company/alker/