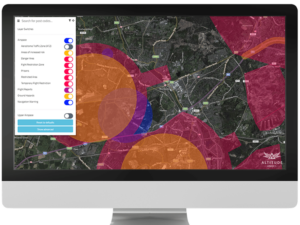 Altitude Angel's DroneSafetyMap airspace map data has been selected for integration into UAV (unmanned aerial vehicle) survey and inspection provider Iprosurv's flight mapping solutions. Iprosurv's drone pilot contractor network delivers visual and data insights to customers from a wide variety of industries.
DroneSafetyMap will be embedded into Iprosurv's internal pilot portal to provide UAV operators with an all-in-one solution for assessing the risk associated with each operation prior to arriving on site. Altitude Angel's Area Report API will provide a detailed area report and hazard score, adding to the body of information used to ensure safety and mitigate risk.
The DroneSafetyMap platform will also assist pilots in submitting flight reports, and will enhance visibility of drone operations through Altitude Angel's GuardianUTM unmanned traffic management solution, as Iprosurv expands its operations across the UK and internationally.
Richard Ellis, Chief Business Officer at Altitude Angel, commented: "The team at Iprosurv share the same entrepreneurial vision and values as Altitude Angel. We want our customers to be as well informed as possible and by integrating Altitude Angel data into its platform, we know Iprosurv will be getting the best possible data in the air and on the ground."
Rebecca Jones, founder and Chief Executive Officer of Iprosurv, said: "We are delighted to have entered into this partnership with Altitude Angel. As a national provider of drone services, Iprosurv needs to play its part in promoting the safe operation of drones by working with regulators and industry professionals. As part of that, we were looking for a partner who could provide accurate real time data to enhance our proposition in a way which not only complies with current regulations but helps shape future ones, and Altitude Angel ticked all the boxes."
"As Iprosurv pushes ahead with its international ambitions, with Altitude Angel we will be able to do so in a way that is informed, safe and completely transparent with all the relevant regulators. We have always tried to push the boundaries of what commercial drones can do and this partnership is another step forward for Iprosurv and the wider commercial drone community."