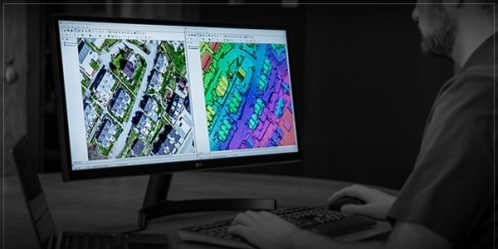 PCI Geomatics has released Service Pack 1 (SP1) for the company's Geomatica Banff UAV (unmanned aerial vehicle) and aerial imagery analysis software. The update features a new workflow for UAVs with camera self-calibration and 2-pass point collection, allowing users to work with data without a calibration report and generate accurate results quickly. A new Random Forest object classification algorithm also provides users with a state-of-the-art advanced machine learning capability.
The new release also provides a wide variety of new and updated features and functions, including:
Full support for Red Hat's CENTOS 8 Linux operating system distribution
New function that samples raw imagery to compensate for distortions in aerial photos, reducing the effects of distortion caused by camera lens, atmospheric refraction, earth curvature or other unpredictable errors
New mirroring function along the vertical or horizontal axes for airborne radar or multispectral data, maintaining the location of GCPs
Supervised Random Trees (RT) classification algorithm based on user-specified RT training model
Improved support for uncalibrated data in Spectra Reflectance Plots, including the update of target metadata using underlying reflectance datasets for comparison
DEM Extraction now includes DSM merge colour balancing methodology for digital/UAV aerial projects
To view the full list of updates provided by Geomatica Banff Service Pack 1, view the release notes on PCI Geomatics' website.