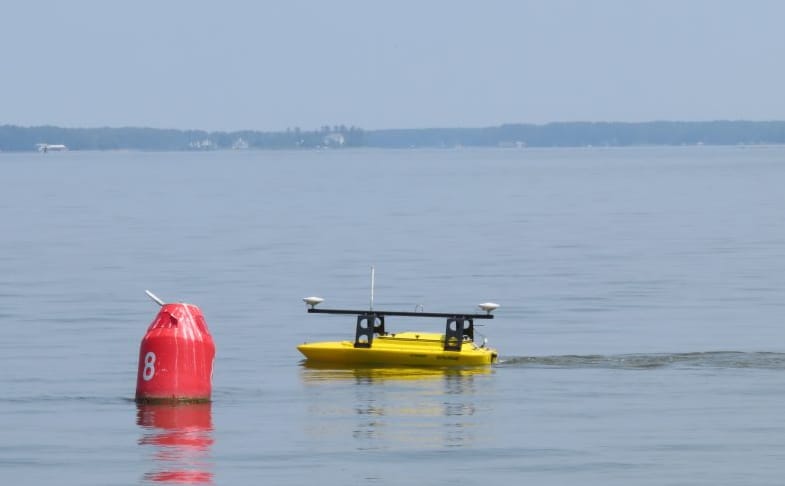 Seafloor Systems' EchoBoat-160 autonomous surface vessel (ASV) has been used by NOAA's (National Oceanic and Atmospheric Administration) Office of Coast Survey to survey the Chesapeake Bay area along Maryland's Eastern Shore in order to identify issues with aids to navigation (ATON). These beacons and buoys are used by recreational boaters, fishing boats and other vessels to navigate safely through the shifting sands and sediment deposits in the bay's shallow waters, and are regularly in need of repair, relocation, or removal due to the shifting sediment.
NOAA's Office of Coast Survey was called upon to help by the U.S. Coast Guard (USCG) Aids to Navigation Team (ANT), and operated the EchoBoat-160 ASV from on board the research vessel Bay Hydro II to survey the shallow waters, through which millions of tons of sediment pass every year from eroding land and streams.
The EchoBoat-160 is a portable unmanned surface vessel (USV) that can be used for either autonomous or remote-control survey missions. The vehicle features flexible payload-swapping capabilities, and for this mission was equipped with a side scan sonar to search for underwater objects, and a multibeam echo sounder to check the contours of the channels.
The survey team first visited Slaughter Creek, near Taylor's Island, where the USCG believed sediment in the channel was shifting, requiring potential ATON relocation. The second area was in Pocomoke River, east of Smith Island, where shoaling in the already shallow channel was an imminent concern, as well as the existence of unused ATON anchors, which can be recycled back into service to save costs.
Survey data captured by the EchoBoat-160 was processed and delivered to the USCG ANT, who used the results to make informed decisions about ATON maintenance. A further survey mission in the area is being planned, in order to search for a possible shipwreck as well as old ATON moorings.