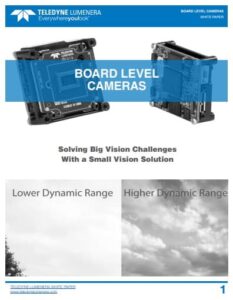 Teledyne Lumenera has released a white paper explaining the integration of board-level and OEM versions of cameras for embedded systems such as UAVs (unmanned aerial vehicles) used for aerial imaging, as well as the advantages of the company's Lt Series of board-level imaging solutions.
Download the full white paper from Teledyne Lumenera's website here
Embedded systems utilising camera technology typically require an imaging solution that is compact and lightweight, and many camera systems have bulky enclosures that make them difficult to integrate. Board-level cameras can be a simpler and more cost-effective way to overcome these challenges without needing to disassemble existing systems or develop custom enclosures.
The whitepaper covers:
How board-level cameras can reduce the overall size and weight of OEM vision systems
Board-level cameras for UAV and aerial imaging applications
The importance of dynamic range in outdoor imaging
The advantages of Teledyne Lumenera's Lt Series of board-level cameras, including multiple lens options, rugged design and side-mounted connectors for easy installation
Global shutter and rolling shutter options
To find out more about board-level cameras for SWaP (size, weight and power)-constrained embedded systems, read the full white paper on Teledyne Lumenera's website.