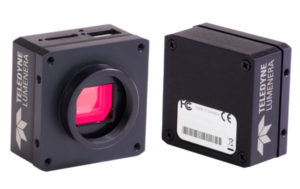 Teledyne Lumenera has launched its new Lt Series USB cameras, designed for 24/7 operation featuring rugged, compact enclosures and fully-locking USB3 connectors.
Based around Sony's state-of-the-art rolling shutter Starvis CMOS sensors and global shutter Pregius CMOS sensors, the cameras are ideal for a variety of drone and robotics applications such as aerial imaging and industrial inspection.
The Lt Series, featuring resolution options from 2 to 20 megapixels, are designed to provide a smaller and lighter imaging solution to suit modern SWaP (size, weight, and power)-constrained imaging system applications, providing advanced vision capabilities while drawing less power and fitting into a smaller footprint. The compact form factor also allows simpler integration for OEMs and systems integrators.
The Teledyne Lumenera Lt Series offers compatibility with 32 and 64-bit Windows, Linux, Linux for embedded system platforms, and single board computers (SBCs), and are USB3 Vision compliant with SDKs available. The cameras are built with back-illuminated sensors and deliver high sensitivity with pixel sizes from 2 μm to 3.45 μm. Region of Interest (ROI) options provide higher frame rates, and multiple data rates are supported, each optimized for lowest noise performance.
Ghislain Beaupré, General Manager at Teledyne Lumenera, commented: "Even with a more compact form factor, the new Lt Series cameras offer the full set of features that the modern imaging industry demands. These new cameras open up new opportunities for imaging system designers to incorporate full-function cameras without unnecessary performance compromises due to size."