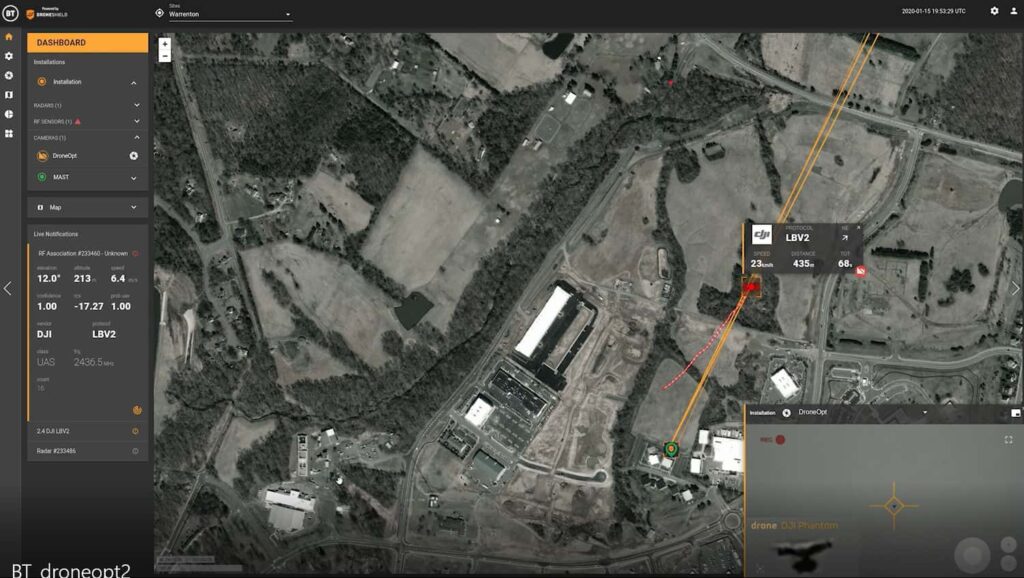 DroneShield has released its new camera-based software for the real-time detection, tracking and identification of unmanned aerial vehicles (UAVs). With an Artificial Intelligence/Machine Learning (AI/ML) engine specially designed for drone detection at its core, the new DroneOptID software uses sophisticated computer vision techniques and works seamlessly with DroneShield's other drone detection and countermeasure devices.
DroneOptID is camera-agnostic and is compatible with a wide variety of cameras. The initial integration includes Bosch MIC 7000 and 9000 cameras, with all current users of those cameras globally now able to utilise the software. DroneOptID is compatible with DroneShield's DroneShieldComplete native GUI, as well as third-party Command and Control (C2) systems.
The system can take geographical and environmental data from other sensors, such as radar and RF detectors, and incorporate the data into its decision-making process via sensor fusion. With a comprehensive drone database, the DroneOptID model has been trained on close to 100,000 individual samples to classify targets, with further improvements ongoing. The software can identify the smallest size drones such as the DJI Mavic at distances of up to 500m, and slightly larger drones such as the DJI M600 at up to 1km.
Oleg Vornik, CEO of DroneShield, commented: "Multi-layered systems are at the core of DroneShield's approach to effective detection and mitigation of drones. DroneOptID enables the next step in this equation, with a sophisticated way to obtain visual data on the drone that can be used for a range of purposes, from court evidence to directing a kinetic weapon at the drone, and enables additional information to the system user, such as reviewing payload of the drone, which isn't available through other sensors."