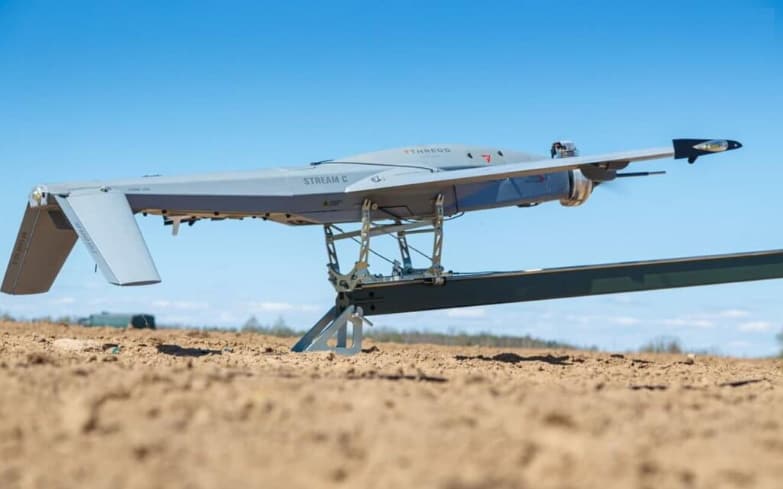 Threod Systems' Stream C unmanned aircraft system (UAS) has been selected by the 2nd Infantry Brigade of the Estonian Defense Forces to monitor Estonia's closed southern border for illegal border crossing attempts. The border has been closed due to the spread of the coronavirus pandemic.
Supporting the Estonian police and Border Guard, the Defense Forces launched Threod's Stream C UAS near Antsla to conduct surveillance flights and to test the ability of the Defense Forces, the Police and Border Guard Board to share air footage and act upon the intelligence gathered. A mobile operations centre was set up in the vicinity of the airport in the village of Lusti, from where the drone was launched, and image and video data gathered by the aircraft was analyzed and processed.
The petrol engine-powered Stream C UAV can operate at altitudes of over three kilometres and can stay in the air for up to eight hours, transmitting a real-time video stream to a ground control station at ranges of over a hundred kilometres.
Major Robert Kase, Staff Officer of the 2nd Infantry Brigade, commented: "We provide professional assistance to the Police and Border Guard Board to support border guards at the southern border in an emergency situation when the internal border is closed. We use Threod's UAS for observation flights and it's not much different from what can be done with an airplane or a helicopter, the only difference is that the pilot is on the ground."
"We use drones in training as much as possible. When the weather allows, we are in the air and we take the maximum out of this tool. The aircraft has been manufactured in Estonia by Threod Systems and the Defense Forces have obtained a certain number of them."
"It can be used in many ways, but the main use is to find your opponent's activity in the field. At the same time, we can also use it to observe and control our units. The soldier is no longer in the forest with binoculars, but he has an aircraft above with which he looks from and the picture is better."