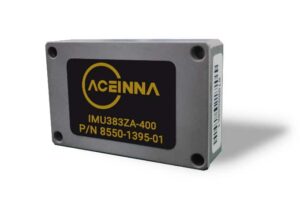 ACEINNA has launched its new IMU383ZA inertial measurement unit (IMU), designed for a wide variety of applications such as drones and other autonomous vehicles, robotics, and advanced driver-assistance systems (ADAS). The miniature module, incorporating triple-redundant 3-axis MEMS accelerometers and gyroscopes, is factory-calibrated over the -40C to +85C industrial temperature range and engineered to withstand extreme environments.
The IMU383ZA features a unique fault-tolerant sensor architecture for improved reliability, as well as a standard SPI bus for convenient board-to-board communications, advanced synchronization and a bootloader for field upgradeability. The triple-redundant architecture consists of three independent 3-axis accelerometers and gyros, and uses ACEINNA's proprietary voting scheme to utilize only valid sensor data. ignoring or derating any defective sensor output or errant dataset.
With a footprint of 24mm x 37mm x 9.5mm, the ACEINNA IMU383ZA meets the low SWaP (size, weight and power) requirements as well as the performance and reliability demands of autonomous vehicles, self-driving platforms, and more.
Michael Murphy, Executive VP at ACEINNA, commented: "The recently developed ACEINNA IMU383ZA is an improved, pin-compatible version of our popular IMU381ZA. It offers high performance (1.3 deg/hr, 0.08 deg/root-hr), and a triple-redundant sensor architecture for ultra-high reliability."
Find manufacturers of inertial measurement units for unmanned systems >>