PCI Geomatics, a leading developer of software for drone and UAV (unmanned aerial vehicle) image processing and data analysis, has partnered with Unmanned Systems Technology ("UST") to demonstrate their expertise in this field. The 'Gold' profile highlights how their software tools can provide scalable solutions for all levels of requirements, for applications such as remote sensing, digital photogrammetry, geospatial analysis, map production, mosaicking and more.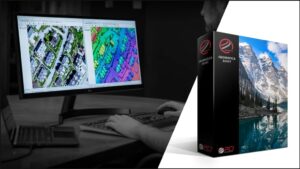 Geomatica Banff is the latest release of PCI Geomatics' flagship Geomatica image analysis software, a leading solution for advanced processing and analysis of geospatial data from drones and aerial imagery.
Geomatica Banff features the ability to utilise automated batch processing, Python-based chained workflows and custom workflow integration for data and object-based image analysis. The versatility of Geomatica Banff offers not only end-to-end photogrammetric processing, but also enables the development of streamlined and repeatable classification applications.
Geomatica Banff provides a host of processing and editing tools to deliver the highest-quality results from UAV and drone aerial survey data. The software incorporates sophisticated DEM (digital elevation model) Extraction algorithms using semi-global matching (SGM), providing better results in difficult extraction areas and reducing the need for follow-on editing and quality control.
Where DEM editing is required, users can take advantage of fast, efficient real-time methods, providing instant previews and allowing real-time ortho updating before committing to the full processing. The final mosaic can also be edited with the Smart Geofill tool, allowing users to fix artifacts with on-the-fly colour balancing and exposure correction. Smart Geofill also allows easy correction of unwanted image aspects by pasting pixels from the original ortho.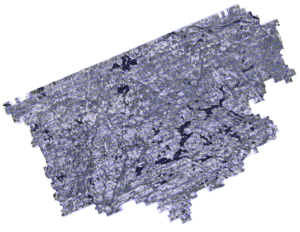 GXL is a powerful high-volume geospatial image processing software package for both high-resolution drone and aerial imagery and commercially available satellite imagery. It takes full advantage of all available computing resources, whether a single server or a large distributed network server system, providing unlimited scalability for any size operation.
Featuring the same powerful algorithms and versatile workflows as Geomatica Banff, GXL can be used to produce high-accuracy wide-area mosaics and elevation models on a vast scale, including entire countries.
GXL's multi-sensor capable mosaic tool combines processing of aerial and drone remote sensing data with automated colour-balancing technology to create seamless mosaics. DEM artefacts and errors can be fixed on-the-fly with efficient hybrid editing, and an instant preview mode, ensuring that users will never have to repeat an entire processing step.
To find out more about PCI Geomatics and their drone image processing and analysis software, please visit their profile page:
https://www.unmannedsystemstechnology.com/company/pci-geomatics/