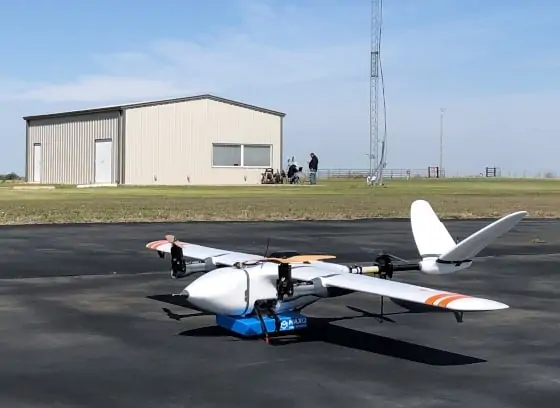 Vigilant Aerospace has provided its FlightHorizon drone detect-and-avoid and airspace management system for a demonstration flight performed by Oklahoma State University (OSU) with a specially modified medical supply delivery UAS (unmanned aerial system). OSU's new drone is designed to deliver medical supplies and testing kits for pandemic relief and other disaster response efforts, providing faster delivery and reduced risk compared to deliveries performed by manned aircraft.
The FlightHorizon system provides air traffic monitoring and safety features required by the FAA for authorization to perform beyond visual line-of-sight (BVLOS) drone operation. It helps unmanned aircraft to automatically maintain safe distances from manned aircraft by accepting data from multiple sensors, tracking air traffic and providing drone pilots or autopilots with avoidance commands when a conflict is predicted. The company's product prototype is currently being used in multiple NASA and FAA R&D projects.
The flight, which was carried out by OSU's Unmanned Systems Research Institute, demonstrated the ability of FlightHorizon to track the drone and all surrounding air traffic in real time in order to maintain situational awareness and predict potential conflicts. The flight was conducted as part of the research and development project funded by the Oklahoma Center for the Advancement of Science and Technology's (OCAST) Oklahoma Applied Research Support program (OARS), which funds innovative projects in industries critical to Oklahoma's economy.
The drone used for the demonstration was a Foxtech Nimbus VTOL V2 modified to carry a medical supply payload delivery container from MaxQ. The system was designed to deliver items such as virus testing kits, biological samples, blood and other items requiring temperature control.
Kraettli L. Epperson, CEO of Vigilant Aerospace, commented: "Our goal with this flight was to demonstrate the key elements of a safe beyond visual line-of-sight medical supply delivery drone system that is affordable, highly portable, complies with industry standards and is waiver-ready. To reach that goal, OSU has combined an efficient VTOL aircraft customized with a temperature-controlled payload and we provided our portable detect-and-avoid system with on board telemetry, transponder tracking and radar."