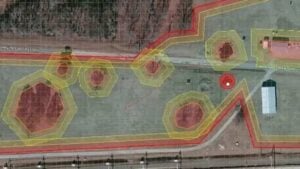 NASA Langley has announced that it has opened applications for its new autonomous unmanned aerial vehicle (UAV) competition, the Safeguard with Autonomous Navigation Demonstration (SAND) Challenge. The SAND Challenge will allow small businesses to compete for a grand prize of $20,000 under the America COMPETES Act.
The challenge will allow competitors to use NASA Langley's patented Safeguard technology to mitigate some of the safety-critical risks associated with flying drones in the national airspace system while they work to complete a set of complex and challenging missions. These risks include flight outside of approved airspace, unsafe proximity to people or property, and critical system failure.
NASA Langley's Safeguard system was originally designed to monitor off-the-shelf UAS and and physically prevent the vehicles from entering no-fly zones or leaving approved airspace as required. The technology will be configured specially for the SAND Challenge to warn competitors of impending violations and will also provide objective performance measurement of factors such as compliance with regulatory property protection and other operational requirements.
The SAND Challenge will be held in August 2020 in Hampton, Virginia, and will follow the Federal Aviation Administration (FAA) Part 107 Regulation Small Unmanned Aircraft Regulations.